Honest Cooking recommended Chateau Montelena Napa Valley Chardonnay 2018 and Gary Farrell Russian River Selection Chardonnay 2018 as two of the top white wines to purchase this summer.
Writer Kalle Bergman spoke with Chateau Montelena Winemaker Matt Crafton about the 2018 vintage Chardonnay, and included some of the highlights below:
"Paradoxically, the "easy" or "straightforward" vintages can be the most difficult for me as a winemaker. The media, critics, and industry representatives tend to praise classic California vintages as a tide that lifts all ships, providing a simple, neat narrative that makes for clean headlines and a universal endorsement of the resulting wines. And they're correct. For those wineries making high-volume, formulaic products, these vintages can be a godsend. But for us at Montelena, the challenge becomes how to artfully craft the mosaic, that beautiful composition of the disparate parts of each vineyard block into something truly captivating and nuanced, amidst so much uniformity. 2018 certainly qualifies in that it would have been tantalizingly easy to fall into the rut of recipe-driven, prescribed process. Thus our objective became how to highlight subtlety; how to tactfully magnify the shades of flavor that are so easily obscured by the abundant sunshine. It's a unique mindset in that we actively search for and embrace the challenge. It's the Montelena way."
Bergman says the Gary Farrell Russian River Selection Chardonnay 2018 has "very attractive citrus notes of lemon rind and grapefruit initially present on the nose, followed by crisp nectarine, honeydew melon, pressed mint leaves and lemongrass. There is plenty to love here for even the non-Chardonnay-lover. Fresh, crisp flavors of Meyer lemon and lime zest create a bright entry that beautifully complements the more opulent flavors of honey, fresh apricot and peach tartlet. The palate is very energetic and fresh with an underlying layer of acidity and loads of fleshy texture." Read the full story HERE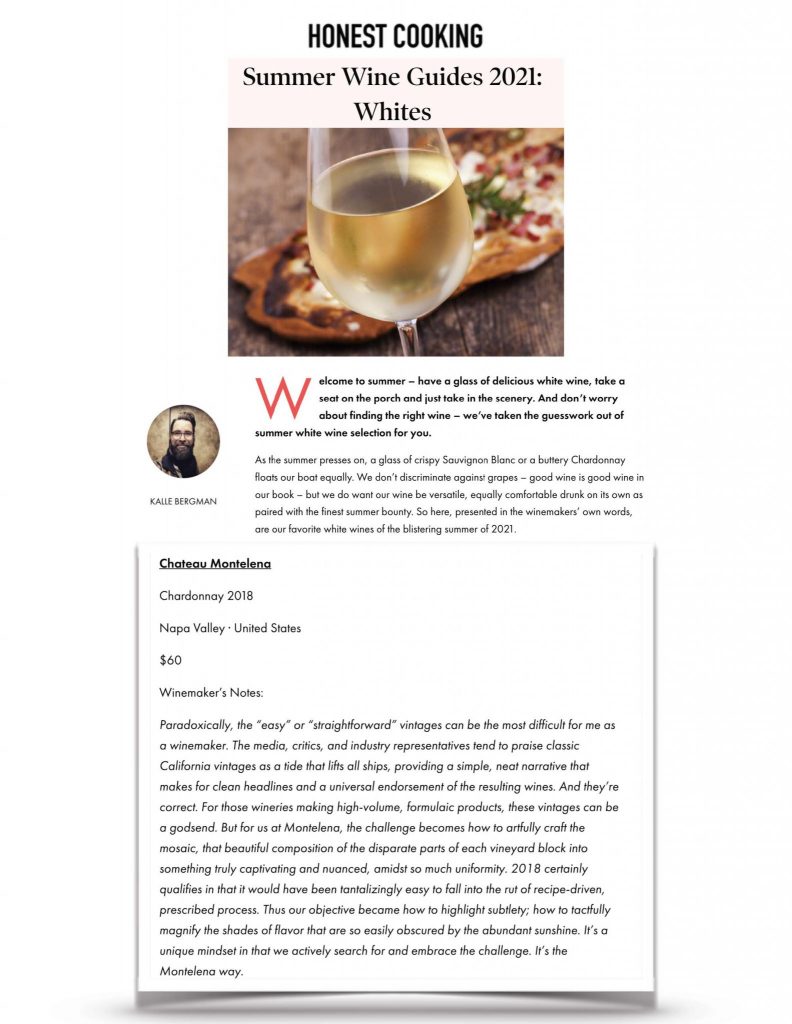 Gary Farrell Winery

Russian River Valley, California

The Russian River Selection bottlings are quintessential Russian River Valley wines blended from some of the winery's top vineyard sources. They are beautiful expressions of their varietal type and of the appellation's unique terroir, each blend capturing the richness, purity and elegance that are Gary Farrell Winery's trademarks. This layered and complex Chardonnay brings together fruit from several of our favorite Russian River Valley vineyard sites.

Chateau Montelena

Napa Valley, California

A true icon. The Napa Valley Chardonnay is the wine that put Chateau Montelena and Napa Valley at the forefront of the wine world in 1976, in what is now memorialized as "The Judgment of Paris." To great disbelief, the Chateau Montelena Napa Valley Chardonnay was the top-ranking wine against four white Burgundies and five other California Chardonnays. And as they say, the rest is history.
Calistoga, Napa Valley, California

In 1976 Chateau Montelena put California at the forefront of the wine world. That year a who's-who of the French wine establishment gathered in Paris for a blind tasting of French and American wines. When the scores were tallied, the top-ranking white wine was Chateau Montelena's 1973 Chardonnay. Montelena today continues to be a quality benchmark in Napa Valley, producing some of the finest Cabernet and Chardonnay in California.

Russian River Valley, California

For over 37 years, Gary Farrell Winery has crafted small-lot artisan wines capturing balance and stylistic elegance from some of the finest vineyard sites in the Russian River Valley. In 1985, Winemaker Gary Farrell released his 55 cases of 1982 Rochioli-Allen Pinot Noir to widespread critical acclaim. Since that release, the team at Gary Farrell Winery has consistently focused on rigorous vineyard selection, outstanding grower relationships, and superior quality fruit. For the past 8 years, the current owners have been dedicated to enhancing Gary Farrell's legacy with a single-minded focus on quality.