Sante Magazine recommended Masciarelli 'Marina Cvetic' Montepulciano d'Abruzzo 2016 and 'Marina Cvetic' ISKRA 2015 in a story about food friendly Italian wines.
Writer Roger Morris describes the Montepulciano d'Abruzzo as "a little puckery with lots of acidity, dark fruits and pleasant bitters around the edges." He adds that ISKRA has "more barrel notes and a bit of a cake-y flavor to go along with the dark fruits and lots of acidity – very nice food wine." Read the full story HERE.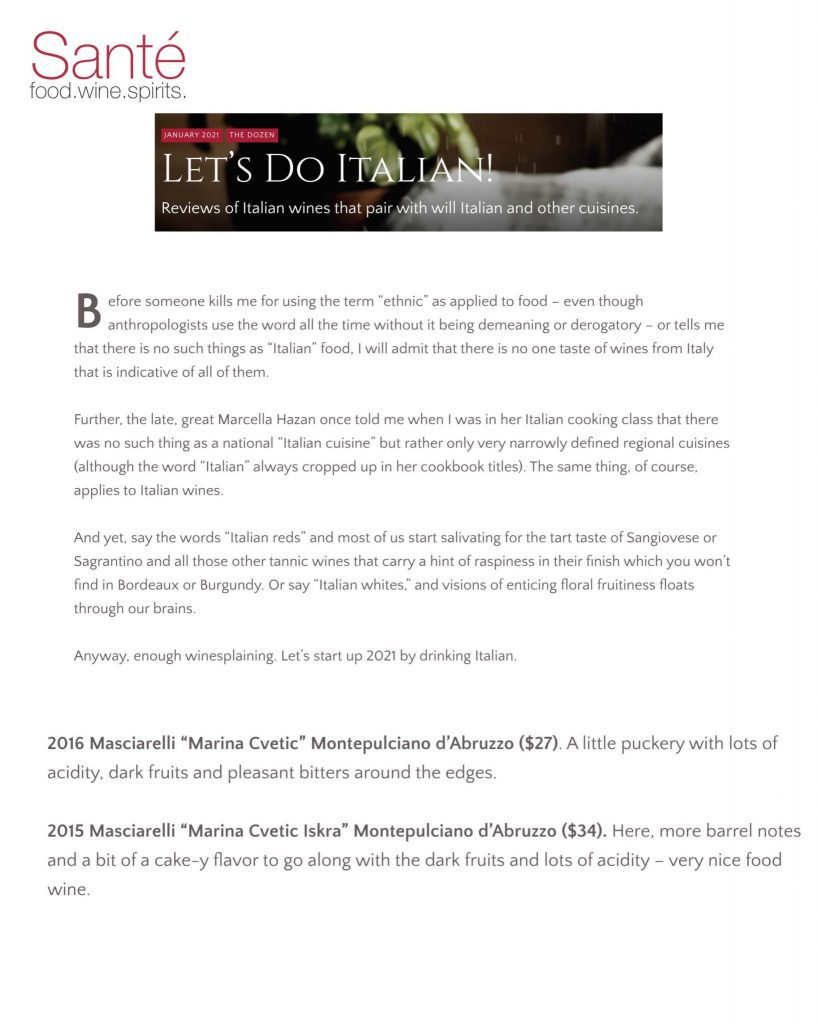 Masciarelli

Montepulciano d'Abruzzo Colline Teramane DOCG

ISKRA is the Serbian word for "spark," and Gianni Masciarelli dedicated this wine to his wife, Marina Cvetic, who is from Serbia. It is among the Marina Cvetic line of wines, which Gianni created for his wife. Made from a single-vineyard cru of Montepulciano d'Abruzzo, ISKRA is a wine of extraordinary distinction and depth.

Masciarelli

Montepulciano d'Abruzzo DOC

The Montepulciano Marina Cvetic represents an intense and remarkable expression of one of the historical vines of Abruzzo.  The 100% Montepulciano comes from eight of the estate's top parcels, across an altitude of 500 to 1,200 feet above sea level, on soils of calcareous clay and lime.  In these vineyards, we find not only the traditional Abruzzo pergola vine training, but also Simple Guyot and Spur Cordon as well.  
Abruzzo, Italy

Through tremendous vision and endless innovation, Masciarelli has not only become one of the most admired wineries in Italy, but is often regarded as the standard-bearer of the Abruzzo region. Led by the mother-daughter team of Marina Cvetić and Miriam Lee Masciarelli, the winery is the only one in Abruzzo to own land in all four provinces and produce wine from 100% estate-owned vineyards.