Wine Review Online included two positive write ups for Masciarelli Marina Cvetic Iskra 2015 and Marina Cvetic Montepulciano d'Abruzzo 2016 in its latest set of reviews.
Michael Apstein awards the Iskra with 93 points, and explains that the wine is sourced from Colline Teramane, the sole DOCG (Italy's highest wine category) in Abruzzo and shows how beautiful this grape can be when in the right hands and planted in the right place. "This one, unsurprisingly, since it comes from Mascareilli, one of the region's top producers, is stunning.  Its suave texture distinguishes it from wines labeled DOC Montepulciano d'Abruzzo, confirming the stature of the DOCG.  It has good power, but its suaveness is what holds your attention.  Great acidity keeps it fresh.  Lovely to drink now, this refined wine is best for a more refined meal."
The Montepulciano d'Abruzzo also earns a strong 91 point rating. The write up states that "the quality and price of Montepulciano d'Abruzzo is vast, from thin swill to monumental wine, which makes it a mine field when selecting wines.  Masciarelli, one of the top producers, is a name you can trust.  This one, named after the founder's wife, has a charming rusticity and good weight.  Not aggressive, this mid-weight wine combines black cherry nuances and spice, which makes it perfect for a sausage-based tomato sauce over pasta." See the full reviews HERE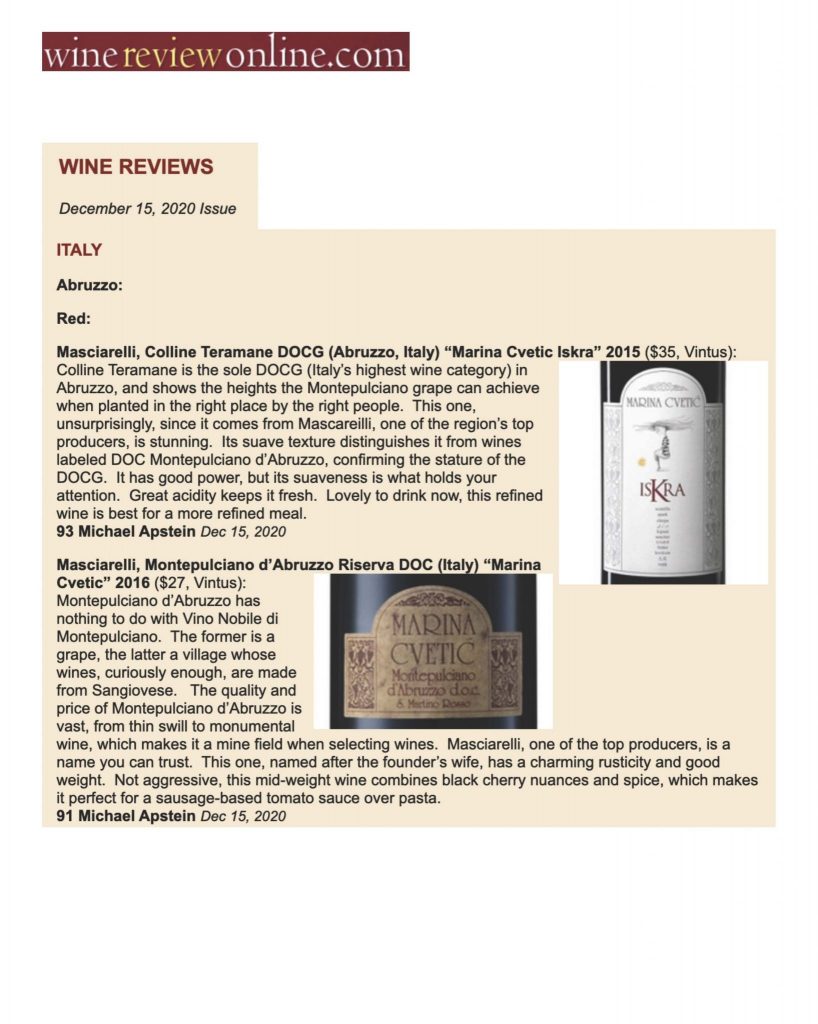 Masciarelli

Montepulciano d'Abruzzo Colline Teramane DOCG

ISKRA is the Serbian word for "spark," and Gianni Masciarelli dedicated this wine to his wife, Marina Cvetic, who is from Serbia. It is among the Marina Cvetic line of wines, which Gianni created for his wife. Made from a single-vineyard cru of Montepulciano d'Abruzzo, ISKRA is a wine of extraordinary distinction and depth.

Masciarelli

Montepulciano d'Abruzzo DOC

The Montepulciano Marina Cvetic represents an intense and remarkable expression of one of the historical vines of Abruzzo.  The 100% Montepulciano comes from eight of the estate's top parcels, across an altitude of 500 to 1,200 feet above sea level, on soils of calcareous clay and lime.  In these vineyards, we find not only the traditional Abruzzo pergola vine training, but also Simple Guyot and Spur Cordon as well.  
Abruzzo, Italy

Through tremendous vision and endless innovation, Masciarelli has not only become one of the most admired wineries in Italy, but is often regarded as the standard-bearer of the Abruzzo region. Led by the mother-daughter team of Marina Cvetić and Miriam Lee Masciarelli, the winery is the only one in Abruzzo to own land in all four provinces and produce wine from 100% estate-owned vineyards.