Wine writer Peter Hoyne wrote a detailed feature story on the region of Tuscany for the Chicago Wine Press, and featured two beautiful reviews of 2017 Tenuta Luce and 2015 Tenuta Luce Brunello di Montalcino.
The wine reviews begin with Luce 2017, the 25th anniversary edition from the winery with a commemorative label. The write up delves into the winemaking and blend of this wine before offering tasting notes. Hoyne writes, "a concentrated opaque color opens to a bouquet of violets and rose petals supported by a core of fresh black currants. Within this modern framework are layers of spices knit together with graphite, star anise and hint of minerality on the finish…A very memorable and youthful wine at this early stage of its development."
Hoyne offers readers background on the grape sourcing and ageability of the much heralded 2015 vintage. He continues by adding, "this deep ruby wine offers a wealth of macerated black fruits and dark toffee undertones. Within the core is a liqueur-like texture and richness to the wine that lasts for minutes."
Read the full write ups HERE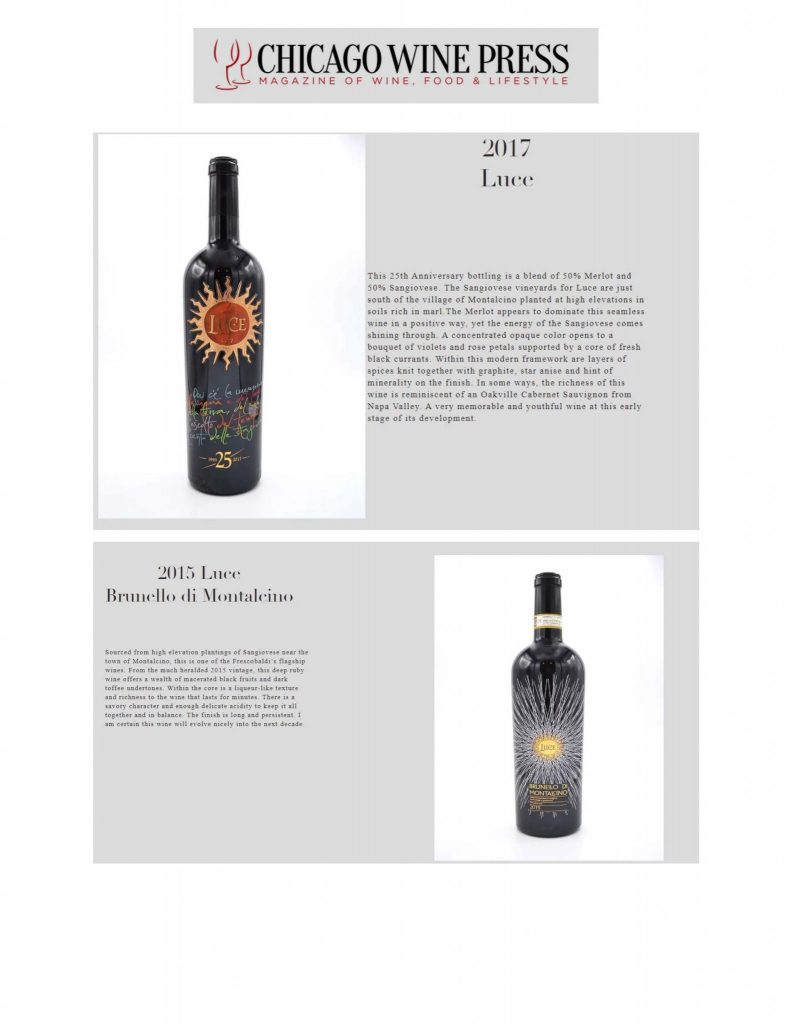 Tenuta Luce

Toscana IGT

Luce is a singular and irresistible expression of Montalcino, a Super Tuscan with an exotic side, and above all full of pleasure. The spectacular estate's diversity of soils, expositions and biodiversity of olive groves and forests come together in a wine as vibrant and exciting as the landscape. 

Tenuta Luce

Brunello di Montalcino DOCG

Luce Brunello is the estate's tribute to one of Italy's crowning jewels of wine production. Of the 217 acres of vineyards at Luce, 27 are are officially listed in the Register for Brunello di Montalcino DOCG. It is an exquisitely balanced wine, gentle and yet powerful, and is produced in very small quantities to showcase the unique character of a pure Sangiovese  from the estate and to pay tribute to the tradition of winemaking excellence in Montalcino.
Montalcino, Tuscany, Italy

Today, Luce goes so much further than was originally envisioned when started as a project over 20 years ago. The estate now has some of the most exceptional vineyards in Montalcino and, as of 2018, a state of the art winery to nurture every step of the winemaking process. The original vision, however, remains the same: to produce a bold and ambitious Super Tuscan that reflects the culture of Montalcino.