Santé Magazine's wine columnist Roger Morris recommended E. Guigal Côtes du Rhône Blanc 2019 and Dog Point Sauvignon Blanc 2020 in a roundup of wines perfect to enjoy this summer.
He says that the Côtes du Rhone Blanc features "lots of floral notes with good acidity to balance," whereas the Sauvignon Blanc is "a little gamey with piquant green fruits and a touch of fruity oils." Read the full story HERE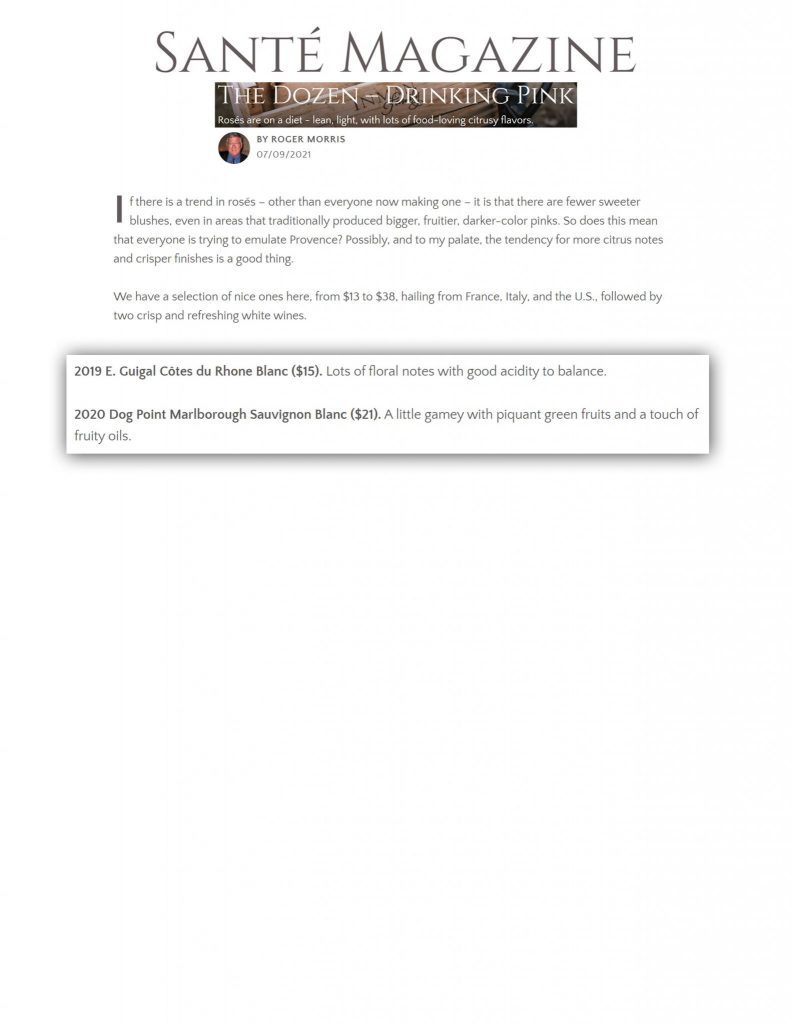 E. Guigal

Côtes du Rhône

Guigal's Côtes du Rhône Blanc both sets and steps outside the standard for the appellation and showcases one of the great secrets of the Guigal family: their specialization in the great white Rhône varieties. While only 8% of the Rhône's production is white, a full 25% of Guigal's production is white and they are today the single largest producer of whites in the Rhône Valley.

Dog Point Vineyard

Marlborough

Dog Point's Sauvignon Blanc has become the icon in its category, a stainless steel Sauvignon Blanc that pulsates with energy, expressiveness and complexity that push the boundaries of what you may expect from Marlborough Sauvignon Blanc. 
Rhône Valley, France

The more you learn about the Guigal family, the more astounding becomes their story.  Their wines are the benchmarks for every Rhone appellation, and over the last thirty years they have become arguably the most lauded producer in the world.  Year after year the Guigal family produces wines of exceptional quality that in all classes offer exceptional value.

Marlborough, New Zealand

Almost since its inception, Dog Point  has been recognized as among the very top (arguably the very top) wine producers in New Zealand.  Their two very different Sauvignon Blancs, their Pinot Noir, and their Chardonnay are all wines of astounding quality and complexity not just in the context of New Zealand wines, but globally.