Grapefriend highlighted the wines of Le Macchiole's Cinzia Merli and Champagne Ayala's Caroline Latrive in a newsletter honoring International Women's Day on March 8.
Writer Alyssa Vitrano highlighted Le Macchiole Bolgheri Rosso 2018, explaining that Cinzia and her husband "transformed a small vineyard into one that made high quality Tuscan wines." Following his passing, "Cinzia continued the evolution and her Bolgheri wines are excellent, like this peppery black currant Rosso blend (Merlot 40%, Cabernet Franc 20%, Cabernet Sauvignon 20%, Syrah 20%)."
Continuing, the piece celebrates Champagne Ayala and its talented winemaker. "Born in Reims, Chef de Cave Caroline Latrive is another rare female cellar master in Champagne, having led the house since 2011. She creates fresh, elegant and low dosage wines like the Brut Majeur."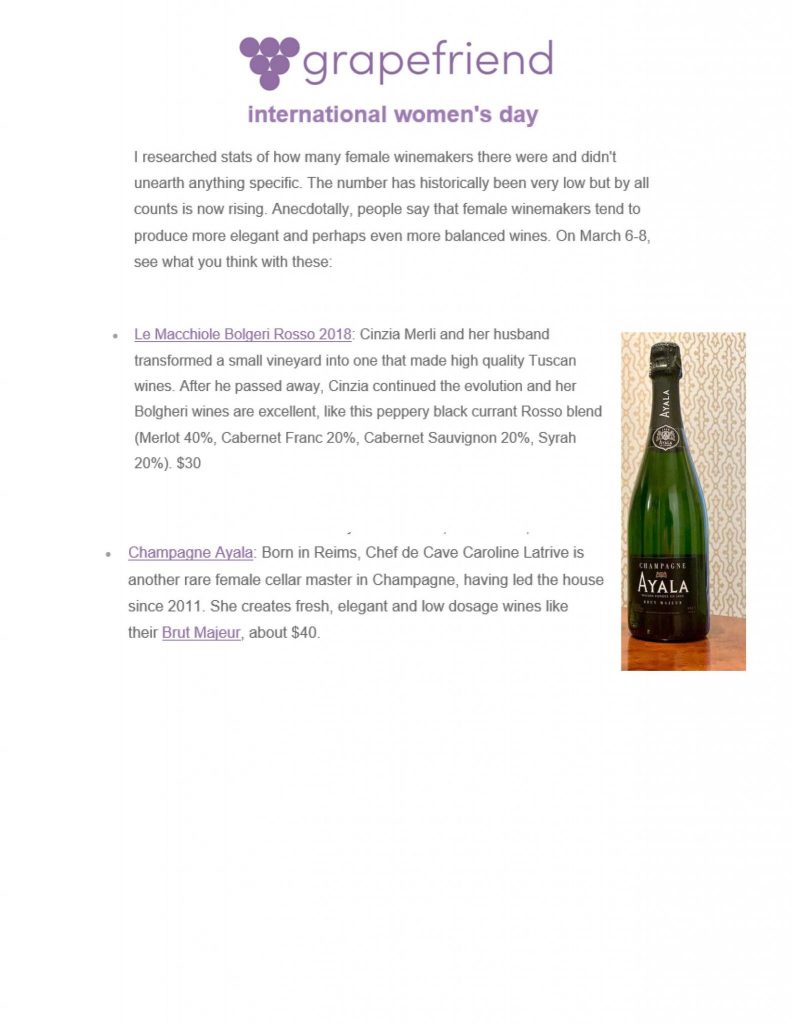 Le Macchiole

Bolgheri Rosso DOC

Bolgheri Rosso is a refined, irresistible blend of Merlot, Cabernet Franc, Cabernet Sauvignon, and Syrah, serving as an introduction to the estate. The wine is, frankly, almost too good at the price. All the intensive artisanal work that Le Macchiole carries out in its vineyards and cellars benefits this wine, and despite more availability than its Paleo Rosso, Messorio and Scrio siblings, it sells out nearly as quickly.

Champagne Ayala

Champagne, France

Brut Majeur is the epitome of a non-vintage brut from a great, historic House and is the finest ambassador for the House's freshness and elegance. A blend of Chardonnay, Pinot Noir and Pinot Meunier grapes, coupled with extended aging in Ayala's cellars and a low dosage, make this wine suitable for any occasion.
Champagne, France

Ayala is one of the most exciting stories in Champagne today, almost the definition of a boutique Champagne producer. Independently owned, a small, young and dynamic team handles every step of production from grape reception to labeling in their jewel of a facility with incredible precision, crafting Chardonnay-focused wines that deliver immense pleasure, freshness, and elegance.

Bolgheri, Italy

Le Macchiole can best be defined as the "Boutique Bolgheri." The winery is known for its spectacular single-varietal wines, and their signature grape varieties are Syrah, Merlot, and Cabernet Franc and work is always conducted with the priority being "the expression of the land." The winery continues to evolve in both the vineyards and in the cellar to allow the soil characteristics from this estate property to be the defining identity in the wines.