Wine writer Laurie Daniel featured Iron Horse Wedding Cuvée as the wine of the week on her blog, Laurie Daniel On Wine. Published ahead of Valentine's Day, Daniel said this exudes romance in both its name and the wine itself .
Daniel offers background on the winery, explaining it is based in "a lovely spot in the cool Green Valley of Russian River Valley in Sonoma County." The aromatic, Pinot Noir dominant blend offers "flavors of strawberry, golden raspberry and citrus, and a fine texture. There's a touch of creaminess, but this exuberant wine is more about fruit, freshness and energy. Truly a wine of celebration." Read the full write up HERE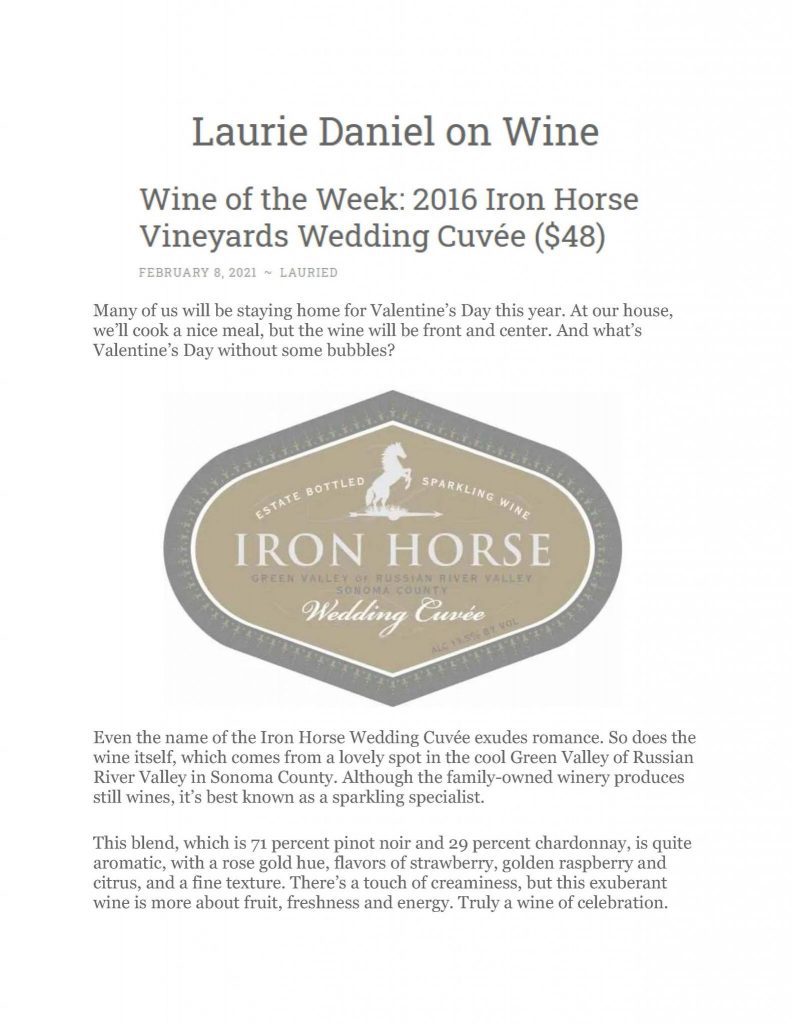 Iron Horse Vineyards

Green Valley, Russian River Valley, California

The irresistible Wedding Cuvée has witnessed countless special moments since its inception in 1980, served at engagements, weddings, anniversaries, and Valentine's Day celebrations. Iron Horse's play on a Blanc de Noirs, this wine features extremely expressive and fruit forward Pinot Noir lots blended with just a touch of steely Chardonnay to add a firm acid backbone. A romantic tinge of pink in the glass hints at the character of the Pinot Noir in this cuvée, and raspberry and nutmeg aromas on the nose are followed by juicy stone fruit, lively blood orange, and red berry flavors that are held seamlessly together with refined and delicate bubbles. Dangerously easy to drink.
Green Valley, Russian River Valley, California

Started in 1976 by Audrey and Barry Sterling, Iron Horse is a standout producer of Sparkling wine in America. Nestled in the cool microclimate of the Green Valley AVA, Iron Horse's 300 acre estate is home to 164 acres of vineyard, split evenly between Pinot Noir and Chardonnay. The second generation, Joy Sterling and her brother Laurence, oversee the estate, and have dedicated their time and attention to improving vineyard practices, implementing regenerative agriculture and sustainability initiatives, and advocating for their community and the environment.