Forbes contributor Tom Hyland recommended Iron Horse Vineyard Wedding Cuvée 2016, Champagne Ayala Rosé Majeur and Champagne Bollinger Rosé NV in a roundup of the best sparkling wines to enjoy this Valentine's Day.
Hyland offers readers background on Iron Horse Vineyard's cool climate terrain and stylistic details on the wine, before delving into tasting notes. He describes the almost orange-hued Wedding Cuvée 2016 as having very small bubbles and "delicate aromas of orange zest, lemon peel and orange poppy." Continuing, "medium-full, this has a graceful feel on the palate, very good acidity, impressive persistence and notable complexity. I love the subtleties and finesse in this wine; this is beautifully realized." He also offers pairing recommendations.
Moving into the Champagne category, Ayala Rosé Majeur offers "beautiful aromas of pink roses, persimmon and orange zest. Medium-full with impressive ripeness, rich, juicy fruit, good acidity, notable complexity and excellent overall harmony." In addition to offering details on the grape varietals, he strongly suggests trying this wine with Thai food.
Last, but certainly not least is Champagne Bollinger Rosé. He starts off with a bit of background on the estate and this particular blend before noting that he has "yet to try any cuvée from this house that is less than first-rate." Positioning this as "ultra impressive for a non-vintage," he experiences "aromas of ripe oranges, tangerine, plum and orange poppy. Full-bodied and very ripe, this is a seductive Rosé Champagne with distinct red spice notes, very good acidity and a powerful finish." Read the full story HERE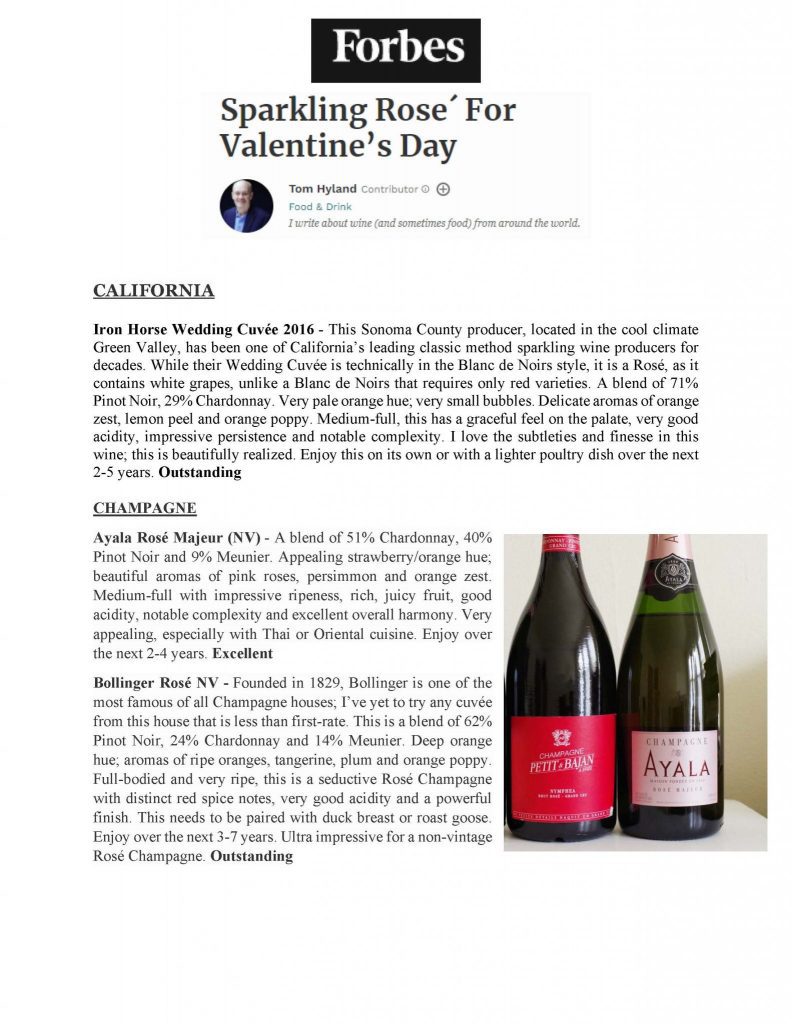 Champagne Ayala

Champagne, France

Rosé Majeur is the perfect embodiment of the originality and finesse of the House's wines. Made predominantly from Chardonnay, it is crafted with the addition of a small proportion of still Pinot Noir from the best crus of the Montagne de Reims. A low dosage enables it to express the House style, both feminine and generous, with great elegance.

Champagne Bollinger

Champagne, France

In the same way that Special Cuvée stands apart from non-vintage Champagnes, Bollinger Rosé is an exception for Rosé Champagnes. What is more, it is a relative secret, as Bollinger did not release a non-vintage Rosé until 2008 and the quantity produced is quite limited. The wine begins as Special Cuvée and then Bollinger's specialty as the Pinot Noir producer in Champagne takes center stage, as the red fruits that join the conversation dance vibrantly, the finish has just a hint of perfectly repeat tannin, and the deep complexity of the wine shines through transparently.

Iron Horse Vineyards

Green Valley, Russian River Valley, California

The irresistible Wedding Cuvée has witnessed countless special moments since its inception in 1980, served at engagements, weddings, anniversaries, and Valentine's Day celebrations. Iron Horse's play on a Blanc de Noirs, this wine features extremely expressive and fruit forward Pinot Noir lots blended with just a touch of steely Chardonnay to add a firm acid backbone. A romantic tinge of pink in the glass hints at the character of the Pinot Noir in this cuvée, and raspberry and nutmeg aromas on the nose are followed by juicy stone fruit, lively blood orange, and red berry flavors that are held seamlessly together with refined and delicate bubbles. Dangerously easy to drink.
Green Valley, Russian River Valley, California

Started in 1976 by Audrey and Barry Sterling, Iron Horse is a standout producer of Sparkling wine in America. Nestled in the cool microclimate of the Green Valley AVA, Iron Horse's 300 acre estate is home to 164 acres of vineyard, split evenly between Pinot Noir and Chardonnay. The second generation, Joy Sterling and her brother Laurence, oversee the estate, and have dedicated their time and attention to improving vineyard practices, implementing regenerative agriculture and sustainability initiatives, and advocating for their community and the environment.

Champagne, France

Ayala is one of the most exciting stories in Champagne today, almost the definition of a boutique Champagne producer. Independently owned, a small, young and dynamic team handles every step of production from grape reception to labeling in their jewel of a facility with incredible precision, crafting Chardonnay-focused wines that deliver immense pleasure, freshness, and elegance.

Champagne, France

Bollinger is one of the rare Grande Marques that's still family owned. Known for its rich, elegant and polished style of Champagne, their outstanding wines are the result of rigorous attention to detail and incredibly labor-intensive practices that few houses are willing to undertake. Underscoring its excellence, Bollinger has remained British secret agent James Bond's Champagne of choice since 1973.