The Observer published a story dedicated to the best gifts to consider for the most stylish hostess, including Chateau Montelena Estate Cabernet Sauvignon 2016.
The writer explains the significance of this bottle and how the Calistoga property dates back to the 19th century, adding that "they've truly perfected their craft." This luxury bottle is selected for a wine connoisseur, who "will definitely appreciate this cabernet, especially on a cold winter night, but it also ages well if she wants to save it for another time." Read the full story of recommendations HERE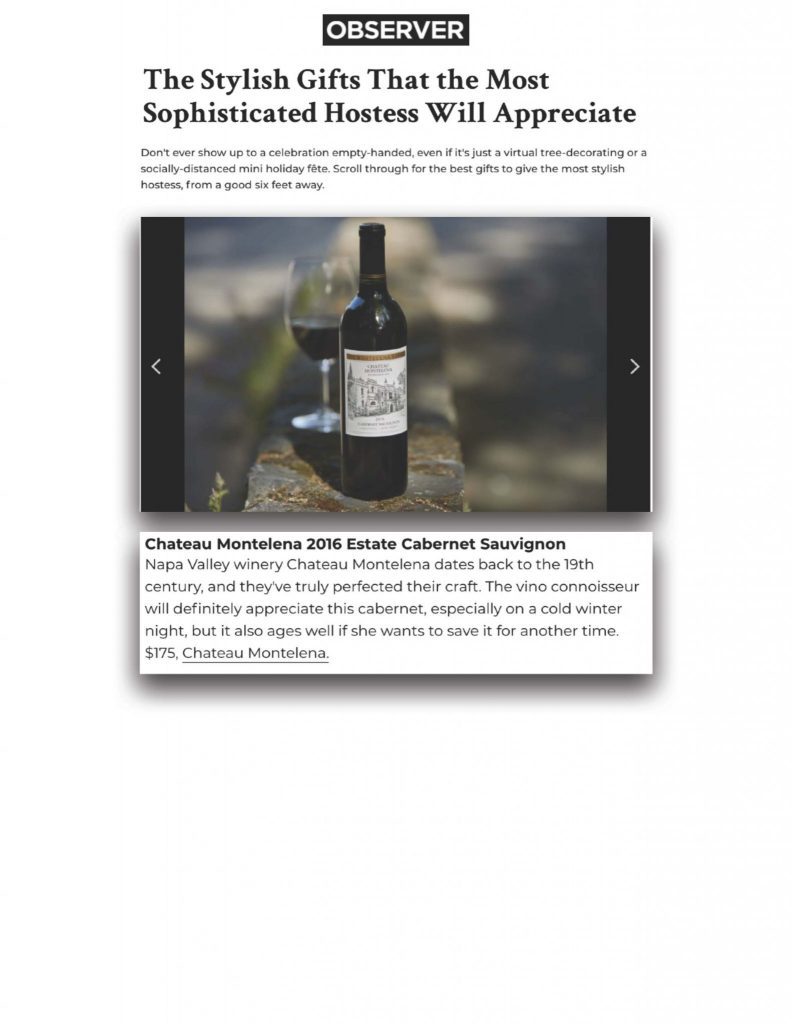 Chateau Montelena

Calistoga, Napa Valley, California

The Estate Cabernet Sauvignon is Chateau Montelena's flagship wine and a quality icon of Napa Valley. The winemaking team works obsessively and passionately with each vintage to capture the best expression of their historic terroir. This is a show-stopper that reveals the perfect blend of flavors, aromas and textures to reach the pinnacle of balance.
Calistoga, Napa Valley, California

In 1976 Chateau Montelena put California at the forefront of the wine world. That year a who's-who of the French wine establishment gathered in Paris for a blind tasting of French and American wines. When the scores were tallied, the top-ranking white wine was Chateau Montelena's 1973 Chardonnay. Montelena today continues to be a quality benchmark in Napa Valley, producing some of the finest Cabernet and Chardonnay in California.