Glam highlighted Masciarelli's Marina Cvetic Montepulciano d'Abruzzo Riserva 2016 and Villa Gemma Montepulciano 2015 in its round up of the best wines to drink this season.
The writer explains the Marina Cvetic "best seller" is 100 percent Montepulciano d'Abruzzo and "comes from eight of the estate's top parcels." As far as the tasting experience, it offers aromatic notes of mint and fresh thyme at the top combined with hints of underbrush, red fruits, olive tapenade, grilled herbs, aniseed, and dark chocolate, it has a deep, full-bodied finish."
The flagship Villa Gemma wine "does an admirable job of showcasing what the Abruzzo grapes can produce." The description speaks to the wine's outstanding craftsmanship and its accolades, including 14 Tre Biccieri awards (in a row). The writer explains that the hand-picked Montepulciano grapes are fermented in steel and then further refined in French oak. "A delightfully complex wine, its notes include red fruit, cherry, currant, violet, and hints of tobacco."
Read the full story and additional descriptions here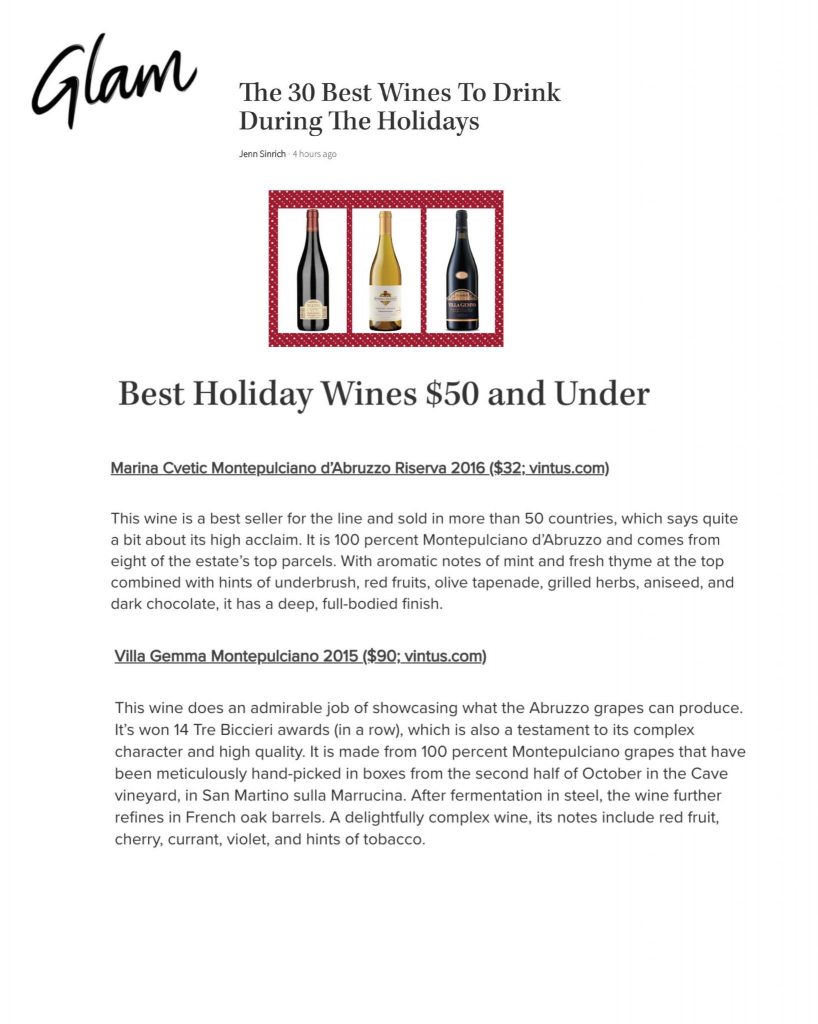 Masciarelli

Montepulciano d'Abruzzo DOC

The Montepulciano Marina Cvetic represents an intense and remarkable expression of one of the historical vines of Abruzzo.  The 100% Montepulciano comes from eight of the estate's top parcels, across an altitude of 500 to 1,200 feet above sea level, on soils of calcareous clay and lime.  In these vineyards, we find not only the traditional Abruzzo pergola vine training, but also Simple Guyot and Spur Cordon as well.  

Masciarelli

Montepulciano d'Abruzzo

Villa Gemma is the wine that announced Abruzzo to the world, showcasing what the region and grapes of Abruzzo could produce. Villa Gemma Montepulciano Riserva is the only Italian wine with 14 consecutive Tre Bicchieri awards and, more importantly, was the wine that established Abruzzo as capable of making truly distinct, extraordinary wines. Villa Gemma Montepulciano Riserva is a powerfully – almost undeniably – intense wine of character and complexity.
Abruzzo, Italy

Through tremendous vision and endless innovation, Masciarelli has not only become one of the most admired wineries in Italy, but is often regarded as the standard-bearer of the Abruzzo region. Led by the mother-daughter team of Marina Cvetić and Miriam Lee Masciarelli, the winery is the only one in Abruzzo to own land in all four provinces and produce wine from 100% estate-owned vineyards.