Elite Daily recommends the Marina Cvetic Montepulciano d'Abruzzo 2016 as a great holiday gift for wine lovers. The writer explains this bottle "comes from a family-owned producer operated by a mother-daughter team."
Offering further context, the writer notes that this 100% Montepulciano features grapes from the estate's top parcels, has won multiple awards and is one of its most popular wines." Continuing, the wine is described as impressive for the price point, easy to drink and "balanced yet complex, it's versatile enough to enjoy with any holiday feast." Read the full write up HERE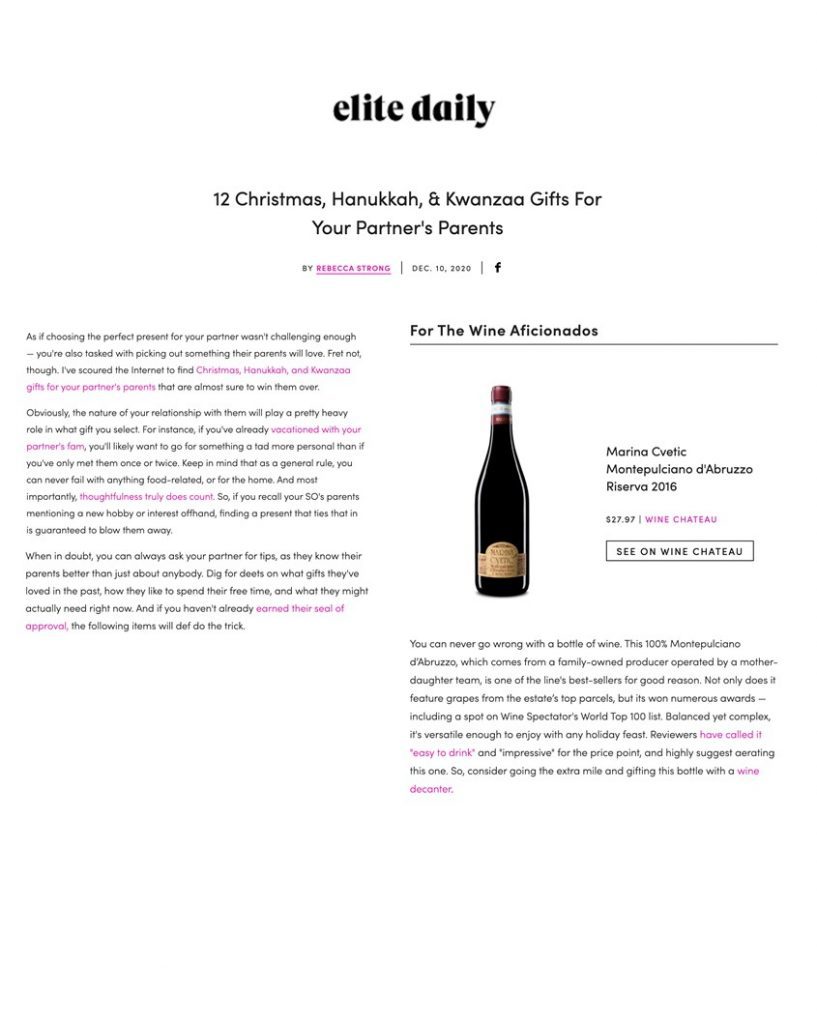 Masciarelli

Montepulciano d'Abruzzo DOC

The Montepulciano Marina Cvetic represents an intense and remarkable expression of one of the historical vines of Abruzzo.  The 100% Montepulciano comes from eight of the estate's top parcels, across an altitude of 500 to 1,200 feet above sea level, on soils of calcareous clay and lime.  In these vineyards, we find not only the traditional Abruzzo pergola vine training, but also Simple Guyot and Spur Cordon as well.  
Abruzzo, Italy

Founded by Abruzzo native Gianni Masciarelli in 1981, Masciarelli and its wines have become the standard-bearer for the Abruzzo region, and an inspiration to all emerging Italian wine regions. After a summer in Champagne, Gianni Masciarelli became convinced that world-class wines could be produced in Abruzzo, and through tremendous vision and non-stop innovation, Masciarelli became one of the most admired wineries in Italy.