Grapefriend's latest newsletter featured wine recommendations for the holidays, including two versatile bottles from Domaine Chanson.
Writer Alyssa Vitrano notes that the star during her annual Christmas Eve Feast of the Seven Fishes is usually lobster. As far as wine, "you can go a couple ways with lobster, but we've always done white Burgundy which has a light touch on the fruit but a big one on silk and elegance."
Continuing, she selects Domain Chanson Beaune-Bastion 2016 for its "beautiful florals with a balance between apple and savory notes." As an alternative, she recommends Chanson Viré Clessé 2018 as "a more affordable version, very light, with hints of citrus, honey and minerality."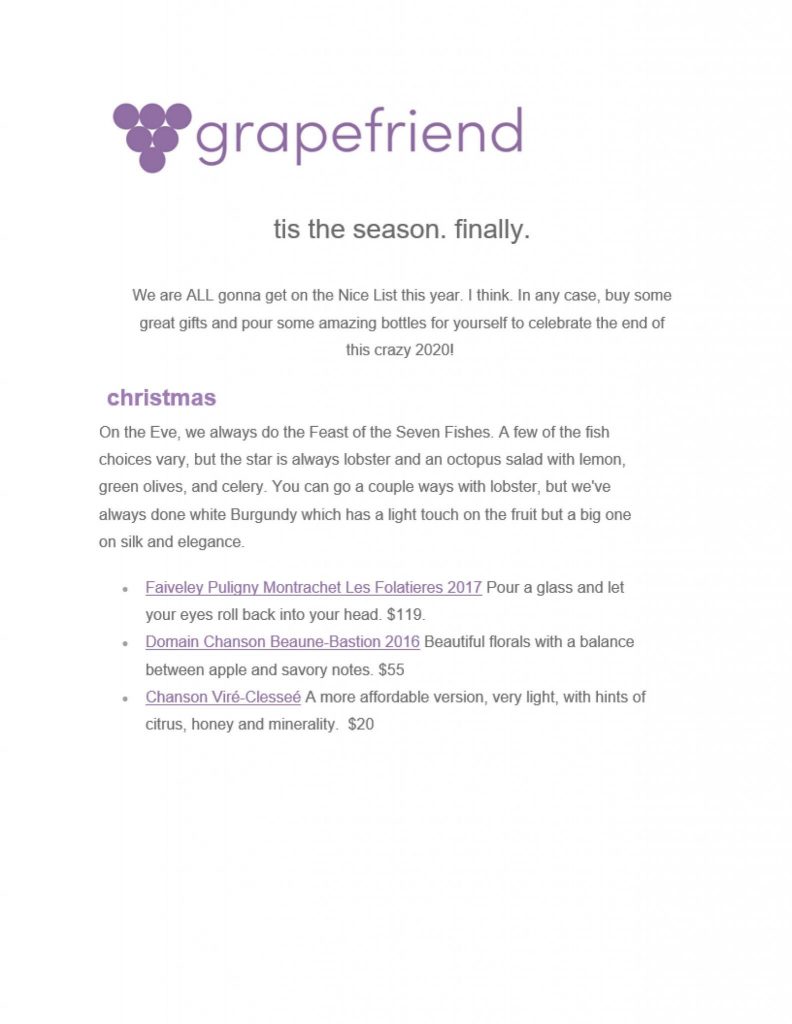 Domaine Chanson

Viré-Clessé, Burgundy

Chanson's regional wine, Viré Clessé is one of the best white wines of the region, combining suppleness and minerality. The appellation lies in the heart of the Mâcon appellation in the south of Burgundy. It's produced from a combination of Chardonnay and Chardonnay Muscaté grapes. 
Burgundy, France

Chanson is a true mid-size Domaine. Unlike many of their competitors, their wines are produced using the grower model rather than the négociant model. They have extensive holdings of over 111 acres of exclusively Premier and Grand Cru vineyards in the heart of Burgundy. Chanson is obsessed with maintaining a consistent quality level across the entire range. The wines have a seductive and distinctive style due to the rigorous approach to viticulture and vinification.