Wine-Searcher published a piece highlighting the surge of Generation Z and Millennials finally drinking more wine. The story includes insightful commentary from Chateau Montelena Winemaker Matt Crafton about how the winery finds ways "to appeal to all demographics, which means making $175 Cabernets, but also making Zin, Sauvignon Blanc and Riesling for $35 a bottle."
He adds, "We're also, along with the rest of the world, doing a lot of virtual tastings and Instagram Live tastings. It has connected us to both our dedicated customers, and introduced us to new and younger ones. If anything, this whole experience has shown us that we all want to same thing. Integrity, respect. For people, for the land. An artisanal product, the concept of taste with a capital T. But different generations may want the story told in a different way."
There are several other industry voices quoted throughout this story with different anecdotes to share and ways they've found ways to appeal to this audience. Read the full story HERE.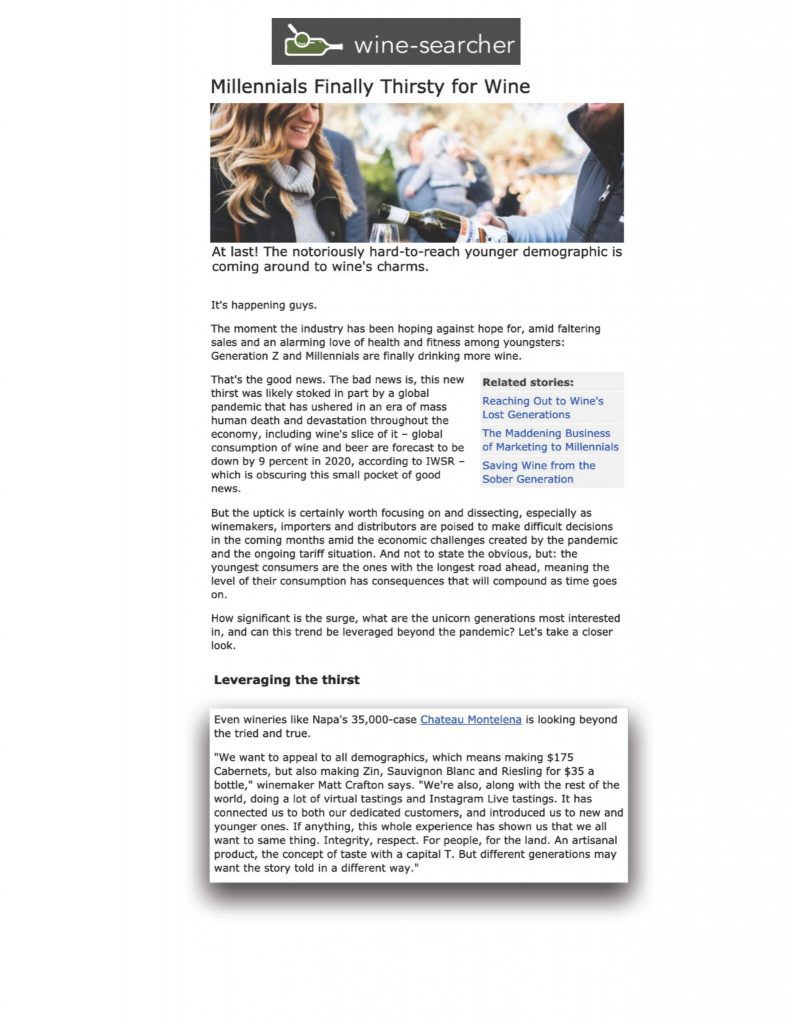 Chateau Montelena

Calistoga, Napa Valley, California

The Estate Cabernet Sauvignon is Chateau Montelena's flagship wine and a quality icon of Napa Valley. The winemaking team works obsessively and passionately with each vintage to capture the best expression of their historic terroir. This is a show-stopper that reveals the perfect blend of flavors, aromas and textures to reach the pinnacle of balance.

Chateau Montelena

Calistoga, California

Produced from grapes grown on the Montelena Estate vineyard, the Zinfandel is a classically-structured, subtle and refined wine. Planted in volcanic soil, combined with 10-year-old vines in alluvial soil, this is a stunning wine known for its spicy, ripe berry flavor.

Chateau Montelena

Mendocino, California

Riesling is a hidden gem within the Chateau Montelena portfolio. Many people don't know it exists, and once they do – they keep coming back for more. Stylistically, it is amazingly refreshing with notes of lemon blossom, honeysuckle and rose petal that are balanced by lively acidity
Calistoga, Napa Valley, California

In 1976 Chateau Montelena put California at the forefront of the wine world. That year a who's-who of the French wine establishment gathered in Paris for a blind tasting of French and American wines. When the scores were tallied, the top-ranking white wine was Chateau Montelena's 1973 Chardonnay. Montelena today continues to be a quality benchmark in Napa Valley, producing some of the finest Cabernet and Chardonnay in California.