Wine Review Online awarded the Gary Farrell Russian River Selection Chardonnay 2018 with a 93 Point score, along with a positive write up. The review notes that while the winery is known for their excellent single-vineyard Pinot Noirs, they also produce beautiful chardonnays. This particular Chardonnay is a blend of five vineyards, Westside Farms, Bacigalupi Vineyard, Rochioli, Allen and Olivet Lane. 
Wine writer Michael Apstein notes, "It is a wonderful expression of Russian River Valley Chardonnay with just the right amount of richness anchored by riveting citrus-like acidity. In short, it's easy to describe this Chardonnay in one word, yummy! You've heard this from me before, but it needs to be repeated: Its 13.3 percent stated alcohol demonstrates that you don't need super ripe grapes to make a super wine."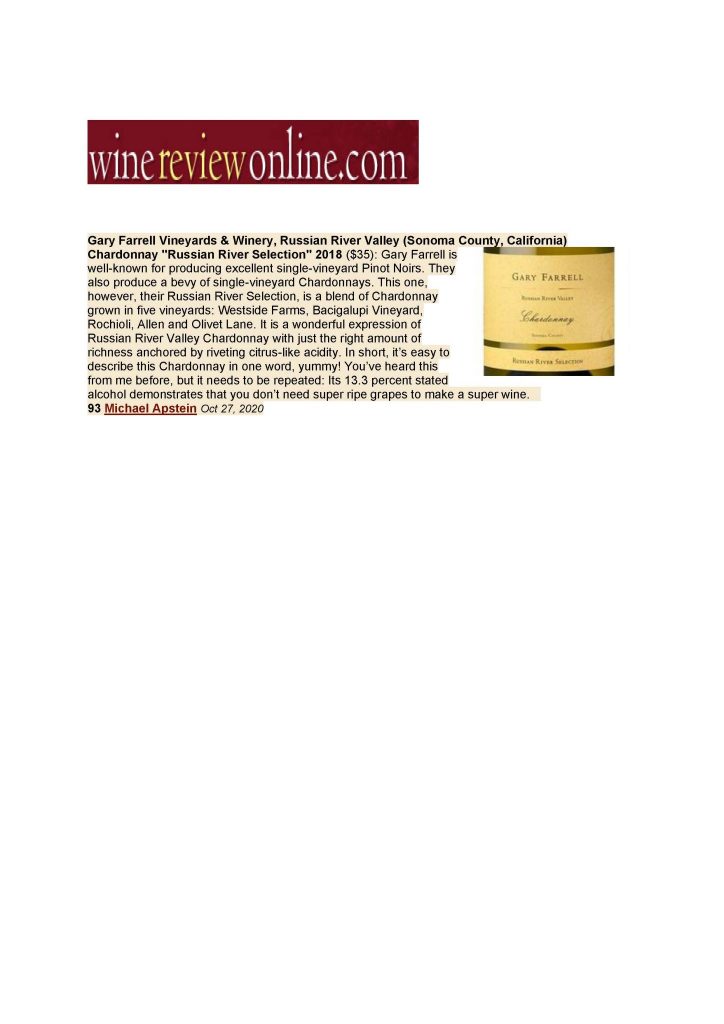 Gary Farrell Winery

Russian River Valley, California

The Russian River Selection bottlings are quintessential Russian River Valley wines blended from some of the winery's top vineyard sources. They are beautiful expressions of their varietal type and of the appellation's unique terroir, each blend capturing the richness, purity and elegance that are Gary Farrell Winery's trademarks. This layered and complex Chardonnay brings together fruit from several of our favorite Russian River Valley vineyard sites.
Russian River Valley, California

For over 37 years, Gary Farrell Winery has crafted small-lot artisan wines capturing balance and stylistic elegance from some of the finest vineyard sites in the Russian River Valley. In 1985, Winemaker Gary Farrell released his 55 cases of 1982 Rochioli-Allen Pinot Noir to widespread critical acclaim. Since that release, the team at Gary Farrell Winery has consistently focused on rigorous vineyard selection, outstanding grower relationships, and superior quality fruit. For the past 8 years, the current owners have been dedicated to enhancing Gary Farrell's legacy with a single-minded focus on quality.