Wine critic Neal Martin recounted a memorable birthday meal at St. John in London, along with several personal anecdotes about food waste, nose-to-tail eating and the restaurant itself. He shared his menu and wine pairings on Vinous, noting that the Chateau Montelena 1991 Estate Cabernet Sauvignon was the star of the evening.
He continues by explaining, "the bouquet is utterly sublime, offering enticing scents of blackberries, iodine and a hint of cassis, opulent but beautifully controlled and defined. " The taste profile of the wine also "does not disappoint." With detailed notes, you can almost envision tasting this wine "delivering plenty of fresh black fruit laced with raspberry preserve and cassis, all wrapped up in a seductive velvety texture that belies the structure underneath. Wonderful!"
We highly recommend reading this full story as it is a really interesting read. Also, fun fact about the restaurant. He says that St. John unequivocally makes the best savory pies in the world – comparing pies to St. John and DRC is to Pinot Noir. Read the full story HERE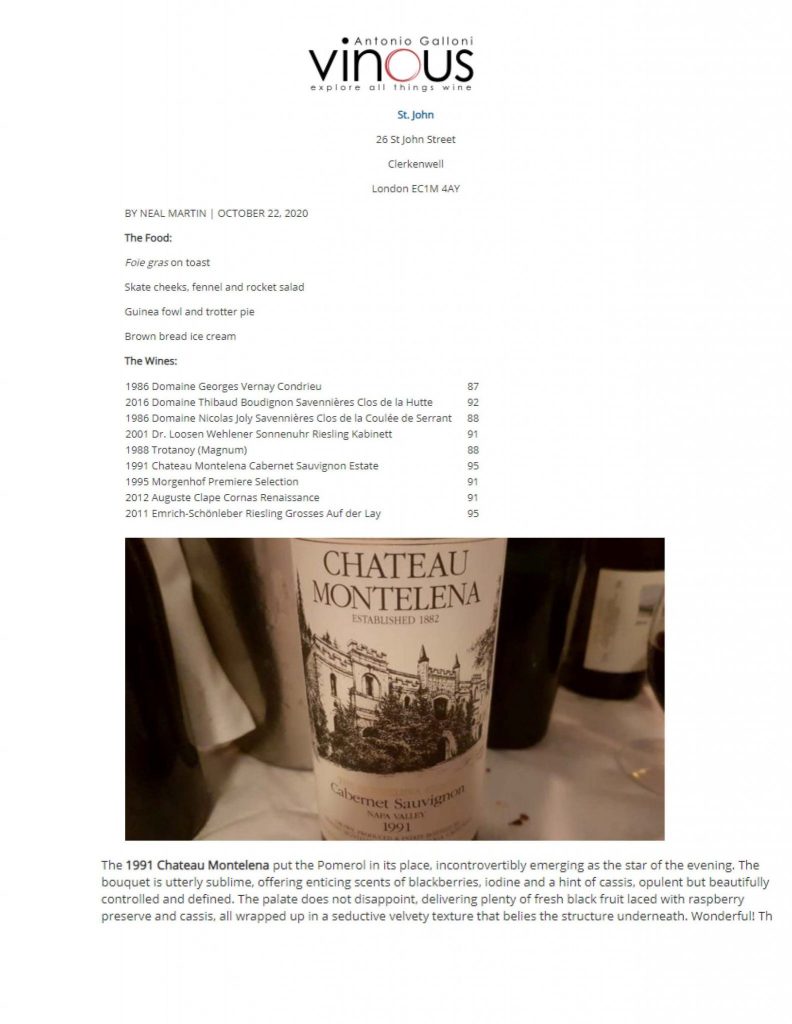 Chateau Montelena

Calistoga, Napa Valley, California

The Estate Cabernet Sauvignon is Chateau Montelena's flagship wine and a quality icon of Napa Valley. The winemaking team works obsessively and passionately with each vintage to capture the best expression of their historic terroir. This is a show-stopper that reveals the perfect blend of flavors, aromas and textures to reach the pinnacle of balance.
Calistoga, Napa Valley, California

In 1976 Chateau Montelena put California at the forefront of the wine world. That year a who's-who of the French wine establishment gathered in Paris for a blind tasting of French and American wines. When the scores were tallied, the top-ranking white wine was Chateau Montelena's 1973 Chardonnay. Montelena today continues to be a quality benchmark in Napa Valley, producing some of the finest Cabernet and Chardonnay in California.