The Weekly Calistogan highlighted a new partnership between the luxurious Calistoga Ranch and Chateau Montelena. In essence, Chateau Montelena developed three exclusive tasting experiences for resort guests to enjoy without needing to leave the property. These new offerings, ranging from $250 to $5,000 per person, make it possible for guests to safely and authentically experience the best of wine country.
The article explains, "Guests can choose from three different tasting options, including the option to be hosted by Chateau Montelena's winemaker Matt Crafton or CEO Bo Barrett. A private dinner prepared by Calistoga Ranch's Resort Chef Chris Ludwicki is prepared and paired with the guests' two favorite wines from their tasting. All experiences include cheese and charcuterie and special access to all Chateau Montelena wines. Additionally, all purchased bottles will also be signed by the winemaker. "
Read the full write up HERE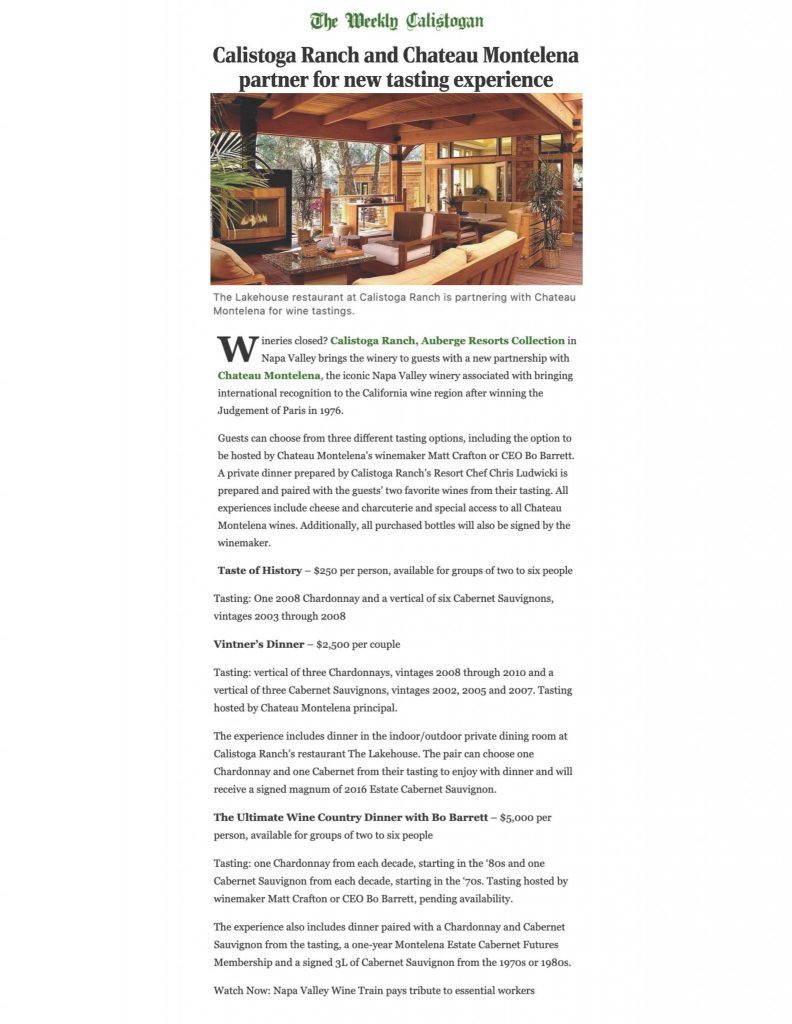 Calistoga, Napa Valley, California

In 1976 Chateau Montelena put California at the forefront of the wine world. That year a who's-who of the French wine establishment gathered in Paris for a blind tasting of French and American wines. When the scores were tallied, the top-ranking white wine was Chateau Montelena's 1973 Chardonnay. Montelena today continues to be a quality benchmark in Napa Valley, producing some of the finest Cabernet and Chardonnay in California.