Business Insider features Dog Point Vineyards in their latest publication highlighting sustainable alcohol brands. The New Zealand based winery not only proudly has the largest number of organic vineyards, but also manages to host the most native flora and water reserves in the country. All these measures are taken in order to offset monoculture farming, something vineyards around the world could stand to consider!
The article includes a brief review of two of Dog Points best selling wines, the Sauvignon Blanc and Pinot Noir, " The Sauvignon blanc is what the region is best known for (pair that stuff with raw shellfish and enter another world), but Dog Point's Pinot Noir isn't to be scoffed at." All of the wines are organically grown, hand-harvested and responsibly fermented.
Read the full feature HERE.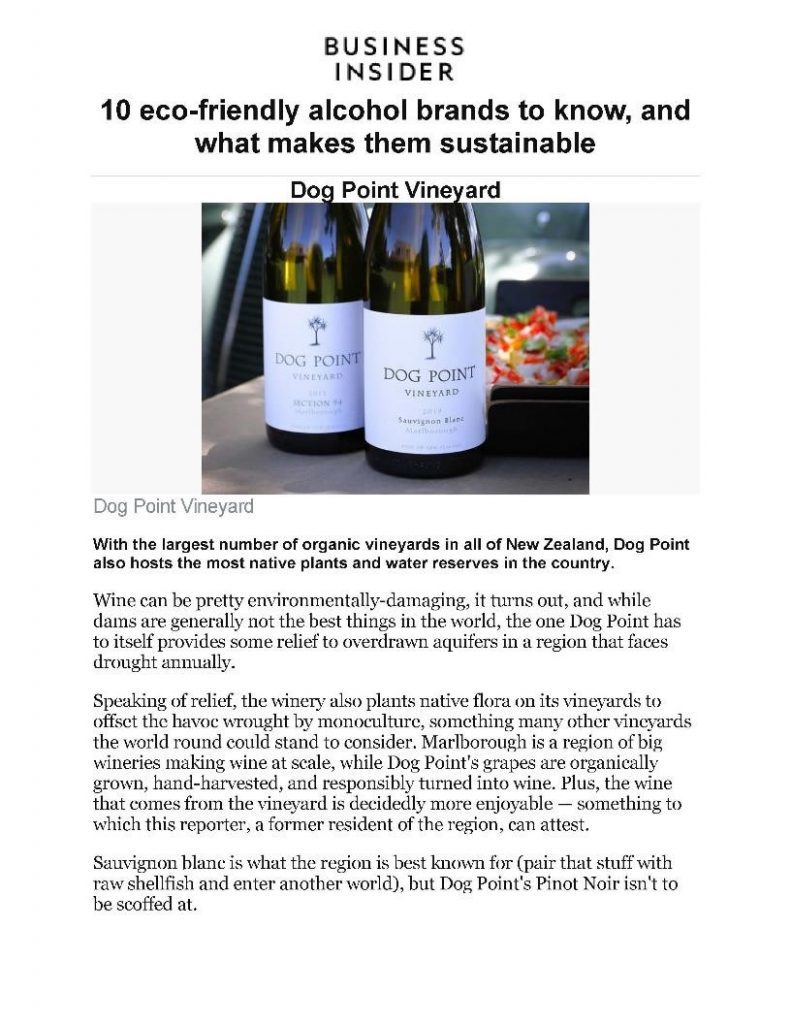 Dog Point Vineyard

Dog Point's renown as a Sauvignon Blanc producers has done nothing to lessen the enthusiasm around their Pinot Noir, today considered one of the finest in New Zealand. What sets their wine apart is the generosity of the structure, which comes off as rich but not sweet, and the complex mingling of fruit and savory notes.

Dog Point Vineyard

Dog Point's Sauvignon Blanc has become the icon in its category, a stainless steel Sauvignon Blanc that pulsates with energy, expressiveness and complexity that push the boundaries of what you may expect from Marlborough Sauvignon Blanc.
Marlborough, New Zealand

Almost since its inception, Dog Point  has been recognized as among the very top (arguably the very top) wine producers in New Zealand.  Their two very different Sauvignon Blancs, their Pinot Noir, and their Chardonnay are all wines of astounding quality and complexity not just in the context of New Zealand wines, but globally.