Departures Magazine features Dog Point Vineyards and Petrolo in a feature highlighting the best organic wines on the market right now. Contributor Jonah Flicker offers a brief background on what constitutes an organic wine. He explains the wines are generally sourced from grapes that were grown without the use of pesticides and herbicides, and similarly does not have any additives such as sulfates to the final wine. He then offers some of his top picks that are produced in this style.
The 2019 Dog Point Vineyard Sauvignon Blanc is recommended for its warm weather appeal, "juicy citrus notes combine with a light salinity to make this a great summer sipper." Similarly, the 2017 Petrolo Torrione is suggested for its ability to "bring complexity to the palate that is not too heavy with soft notes of raisin and ripe blueberries."

To find out more, read the full article HERE.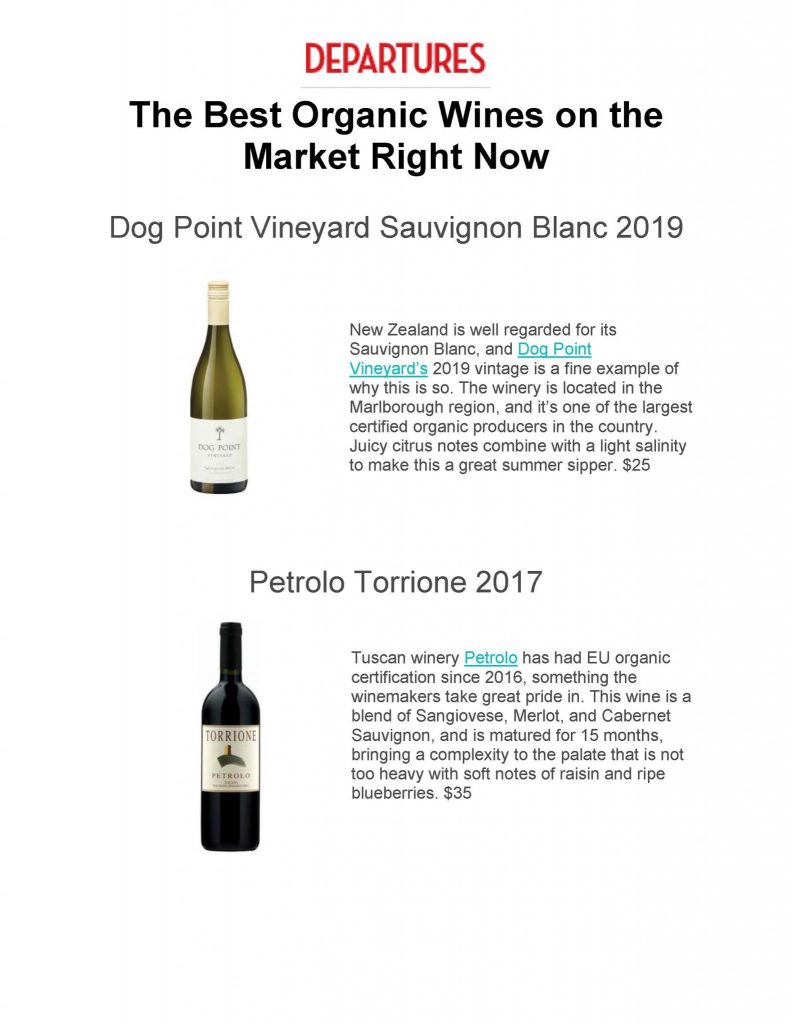 Petrolo

Toscana IGT

Torrione marks the beginning of the Petrolo's quality revolution. It is considered to be the true identity of Petrolo, made with a blend of grapes from all of the estate's vineyards.

Dog Point Vineyard

Marlborough

Dog Point's Sauvignon Blanc has become the icon in its category, a stainless steel Sauvignon Blanc that pulsates with energy, expressiveness and complexity that push the boundaries of what you may expect from Marlborough Sauvignon Blanc. 
Val d'Arno di Sopra, Tuscany. Italy

Petrolo is the definition of a cult winery, with an owner and a story that have helped create its legendary status. While the estate's benchmark wine, the Merlot cru Galatrona, deservedly receives fireworks in the press and is part of the history of Tuscany's quality revolution in the late 1980s and 1990s, the winery's two other standouts, Torrione and Boggina, are an equally thrilling success - Sangiovese from a special and virtually unknown appellation bordering Chianti Classico that today produces wines of distinct regional identity.

Marlborough, New Zealand

Almost since its inception, Dog Point  has been recognized as among the very top (arguably the very top) wine producers in New Zealand.  Their two very different Sauvignon Blancs, their Pinot Noir, and their Chardonnay are all wines of astounding quality and complexity not just in the context of New Zealand wines, but globally.