The Washington Post's longtime wine columnist, Dave McIntyre, is using this time as we all continue to shelter in place to offer an ongoing series of wine fundamentals and the basics of wine appreciation. This week focuses on the mysteries behind decoding a wine label and the Chateau Montelena Estate Cabernet Sauvignon 2016 is featured as the lead example.
He explains, "In the label shown here, Chateau Montelena is the winery name. Napa Valley is the region, and Calistoga, in the northern part of the valley, is the subregion. (The traditional term for a wine region is "appellation." In the United States, they are American Viticultural Areas, or AVAs.) "The Montelena Estate" tells us the wine comes from Montelena's own vineyard. The word "estate" usually tells us the winery grew the grapes in the wine. Since it's labeled cabernet sauvignon, we know that under U.S. law it is at least 75 percent that grape." He continues by offering some historic background on the winery.
Read the full story HERE.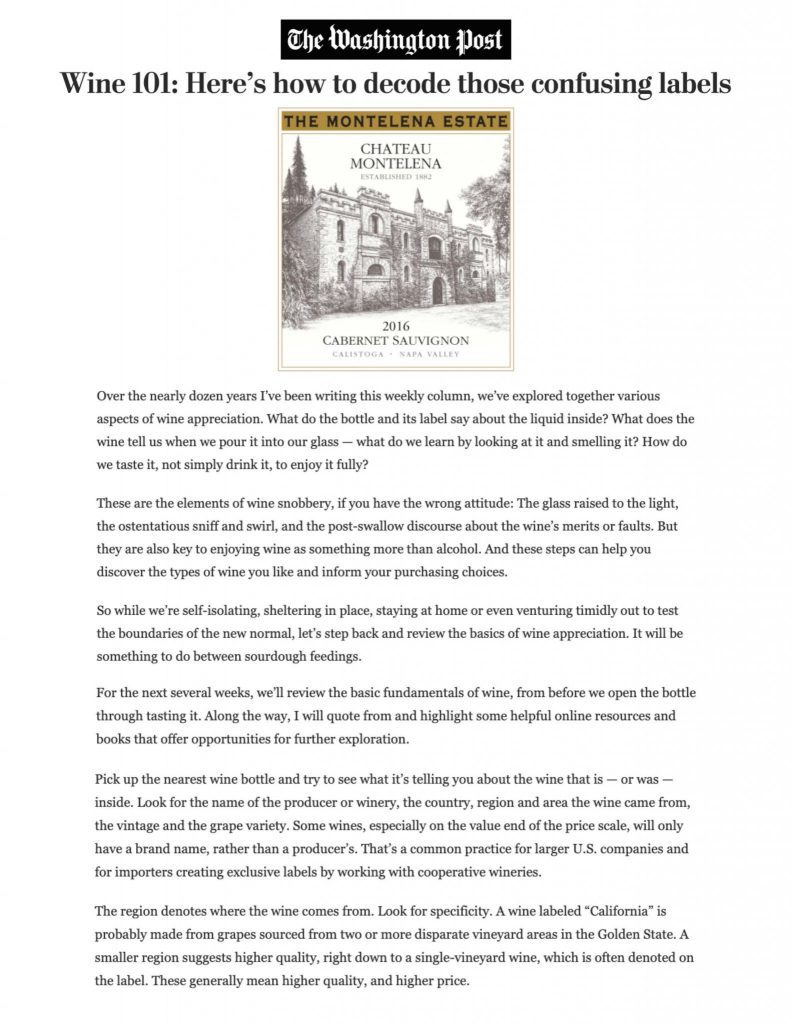 Chateau Montelena

Calistoga, Napa Valley, California

The Estate Cabernet Sauvignon is Chateau Montelena's flagship wine and a quality icon of Napa Valley. The winemaking team works obsessively and passionately with each vintage to capture the best expression of their historic terroir. This is a show-stopper that reveals the perfect blend of flavors, aromas and textures to reach the pinnacle of balance.
Calistoga, Napa Valley, California

In 1976 Chateau Montelena put California at the forefront of the wine world. That year a who's-who of the French wine establishment gathered in Paris for a blind tasting of French and American wines. When the scores were tallied, the top-ranking white wine was Chateau Montelena's 1973 Chardonnay. Montelena today continues to be a quality benchmark in Napa Valley, producing some of the finest Cabernet and Chardonnay in California.