Food & Wine highlighted the Napa Valley Vintners' "Open The Cellar" sale that is going on through Wednesday evening. As more than 250 wines from more than 150 producers are featured, the magazine's terrific wine editor, Ray Isle, has outlined his picks to seek out, including Chateau Montelena Estate Cabernet Sauvignon 2003.
It's important to note that this is an especially special offering as many of the wines included in this sale are normally available only at the wineries, often just to mailing lists or are rare library vintages. Isle notes that the current vintage of Chateau Montelena's classic Estate Cabernet, the 2016 vintage, retails for $175, so "picking up a bottle with 17 years of age on it for $75 bucks more is well worth the additional money." As everyone continues to sip wine at home during the pandemic, this creates a terrific opportunity to refill your emptying wine rack or cellar. Read the full story HERE.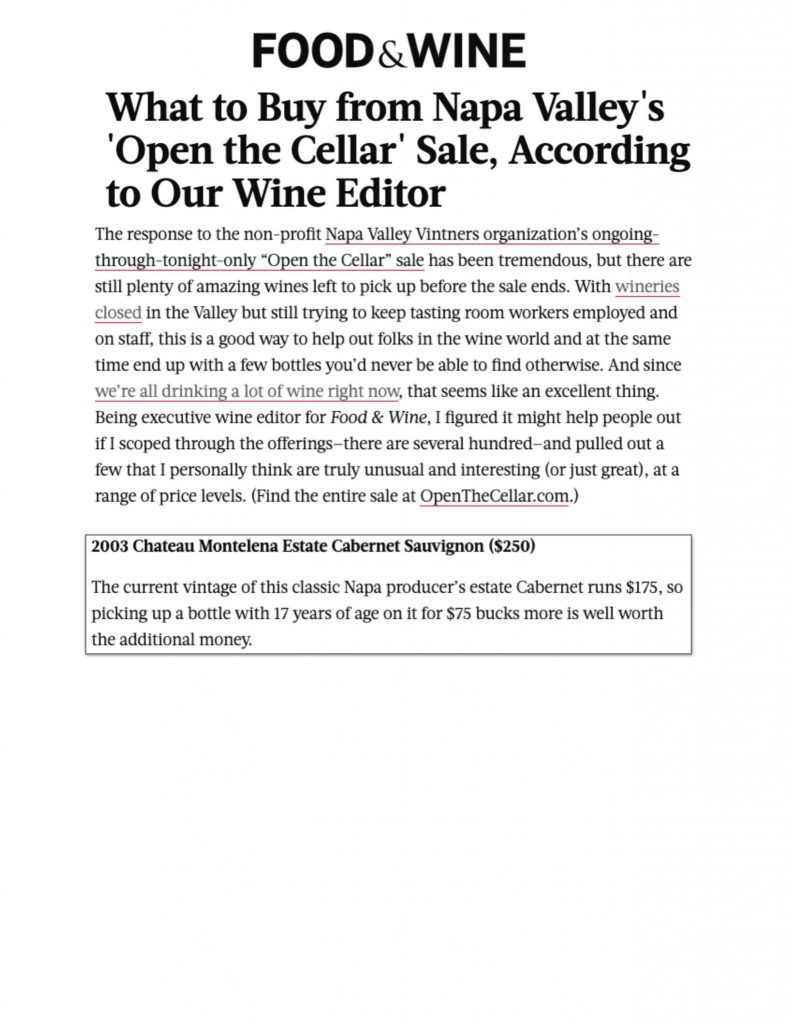 Chateau Montelena

Calistoga, Napa Valley, California

The Estate Cabernet Sauvignon is Chateau Montelena's flagship wine and a quality icon of Napa Valley. The winemaking team works obsessively and passionately with each vintage to capture the best expression of their historic terroir. This is a show-stopper that reveals the perfect blend of flavors, aromas and textures to reach the pinnacle of balance.
Calistoga, Napa Valley, California

In 1976 Chateau Montelena put California at the forefront of the wine world. That year a who's-who of the French wine establishment gathered in Paris for a blind tasting of French and American wines. When the scores were tallied, the top-ranking white wine was Chateau Montelena's 1973 Chardonnay. Montelena today continues to be a quality benchmark in Napa Valley, producing some of the finest Cabernet and Chardonnay in California.