Wine Spectator's recent tasting highlight focusing on New Zealand Sauvignon Blancs recognizes Dog Point Vineyards as a "standout for its quality." The 2019 vintage was a stellar year, characterized by warmer and drier conditions than the previous two years, allowing for ripe fruit with gorgeous tropical character.
The 2019 Dog Point Vineyards Sauvignon Blanc received 92 Points, the highest score of the lot, and a rave review: "Mouthwatering and vivid, with a laser beam of focus and intensity to the Meyer lemon, ruby grapefruit and dried mango flavors. Peppery white flower aromas and a touch of freshly grated ginger add complexity."
To learn more about Kiwi Sauvignon Blancs and Dog Point Vineyards, read the full feature HERE.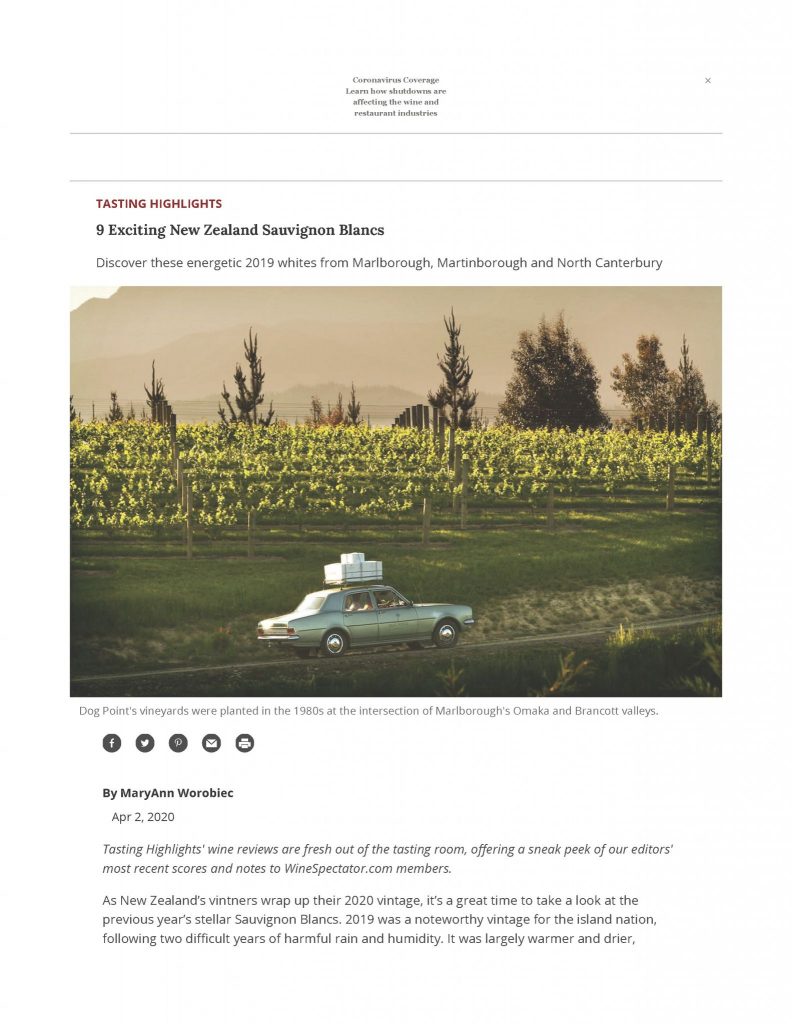 Dog Point Vineyard

Marlborough

Dog Point's Sauvignon Blanc has become the icon in its category, a stainless steel Sauvignon Blanc that pulsates with energy, expressiveness and complexity that push the boundaries of what you may expect from Marlborough Sauvignon Blanc. 
Marlborough, New Zealand

Almost since its inception, Dog Point  has been recognized as among the very top (arguably the very top) wine producers in New Zealand.  Their two very different Sauvignon Blancs, their Pinot Noir, and their Chardonnay are all wines of astounding quality and complexity not just in the context of New Zealand wines, but globally.