Drinkhacker, a blog geared to individuals interested in wine and spirits, featured Finca Decero's The Owl & The Dust Devil in "Review: 2015 Finca Decero The Owl & the Dust Devil." Editor in Chief and founder of Drinkhacker, Christopher Null notes " The cabernet and malbec carry the weight of the wine, bold with currants, volcanic soil, and black pepper.  Lush and silky, that velvety cabernet body glides over the palate, leading to a finish that is lightly sweet, lightly spiced, and plenty fruit-forward…lots going on, and lots to like. P.S. There's an augmented reality app connected to this label that lets you virtually visit the winery…"  He gave the wine an "A-." Read the full story here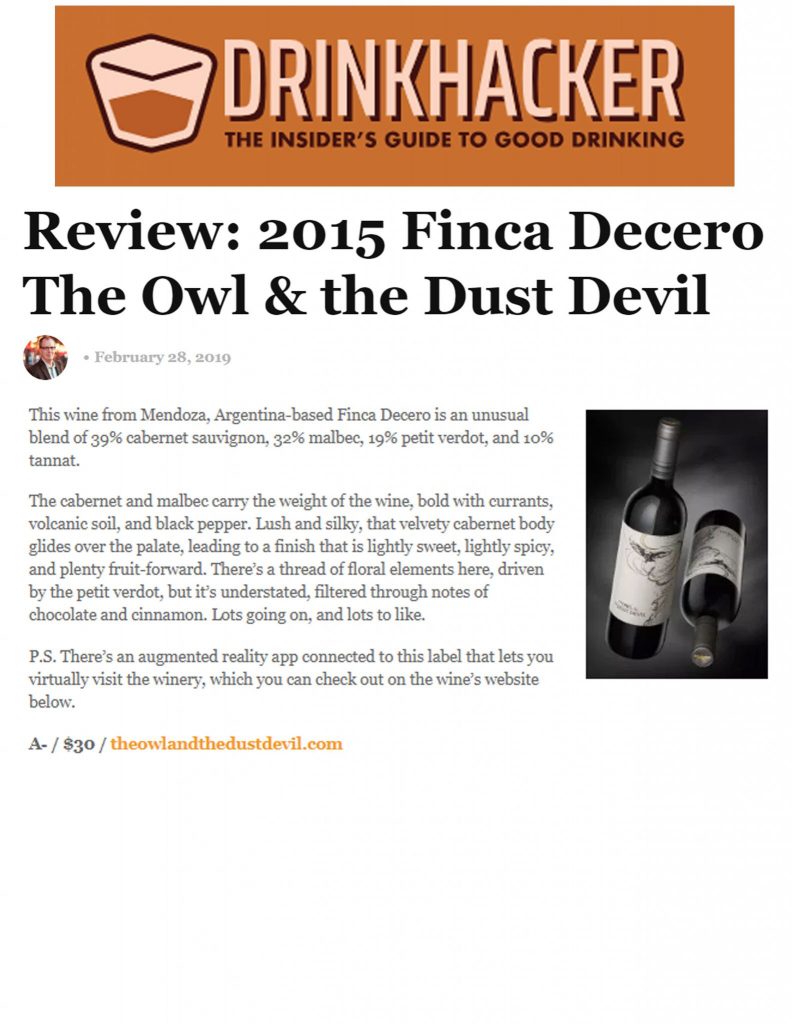 Finca Decero

Agrelo, Mendoza, Argentina

The Owl & The Dust Devil represents the wild side of Finca Decero, an exceptionally expressive and intense red blend that has as its core some of the specialties of Finca Decero. Its impact on the palate is matched by its groundbreaking Virtual Reality packaging.
Agrelo, Mendoza, Argentina

Finca Decero has become recognized not only for having one of the highest quality vineyards in all of Mendoza, but also for catapulting into an elite group of the most highly regarded producers in Argentina. The wines all come from the single Finca Decero vineyard, and the winery's focus is entirely quality focused.