Syndicated Capital Gazette wine columnists Tom Marquardt and Patrick Darr have kicked off 2019 with a story that encourages readers to enjoy wine at the beginning of the year, and to consider trying new, quality driven offerings. In the piece, "Wine, etc.: Don't procrastinate. Try these unique wines in 2019," the duo recommends Ponzi 2015 Classico Pinot Noir as one of 12 recommended wines, adding "Using cuvees from seven to eight estate vineyards, winemaker Luisa Ponzi continues to knock out a wonderful Willamette Valley pinot noir with ripe, forward raspberry and cherry fruit with a hint of coffee." Read the full story here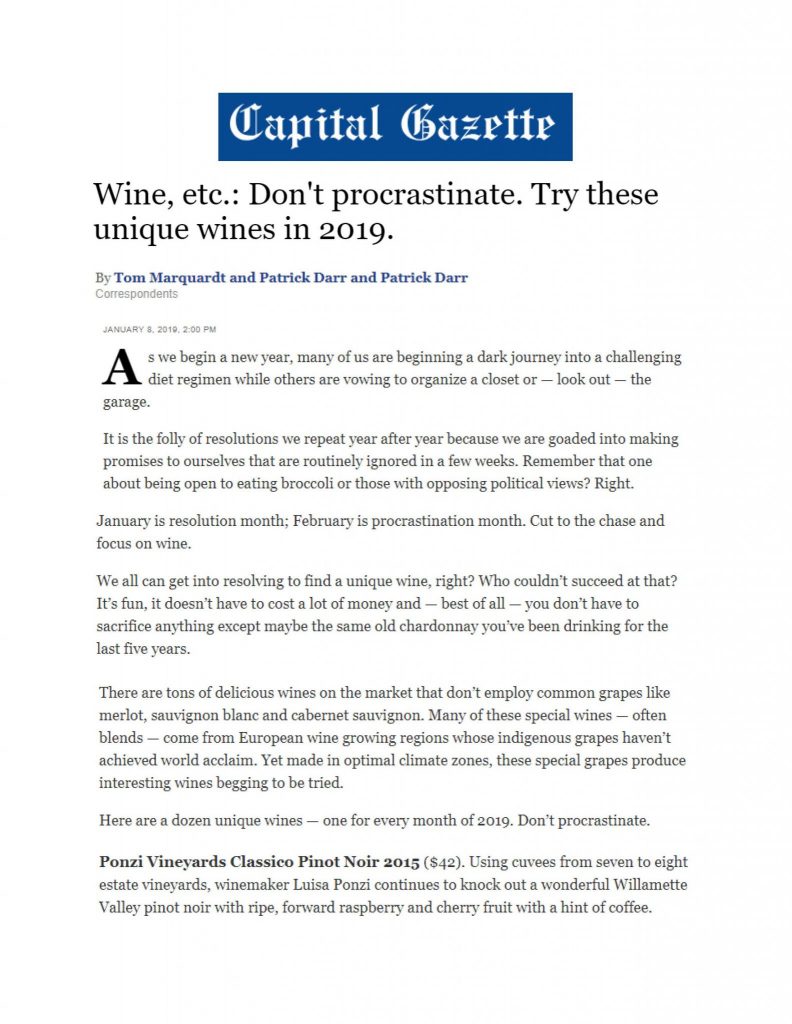 Ponzi Vineyards

Willamette Valley

The "classic" representation of Willamette Valley Pinot Noir, this wine encapsulates the experience, innovation, top vineyard sources, and expertise of the pioneering Ponzi family. Among the first to make Pinot Noir in Oregon and the United States and, since the start, among the very best. 
Chehalem Mountain AVA, Willamette Valley, Oregon

Dick and Nancy Ponzi helped put Oregon on the map in the United States and the world, and the Ponzi family has worked continuously for over 50 years leading and innovating in the region and, in the case of Pinot Noir, across the country and indeed the world. Today winemaker Luisa Ponzi continues her work of the last 30 years with the family of Champagne Bollinger, which acquired Ponzi Vineyards in 2021.