Mass Live Online, the online version of The Republican, a daily newspaper from Massachusetts, featured Finca Decero's The Owl & The Dust Devil in "Wine Press: 10 Wines Worth Splurging On This Holiday Season." Editor Ken Ross notes in his review: "I just love how velvety smooth this red blend from Argentina tastes.  I also like the fact that this winery's helping to break the mold when it comes to Argentinian single-grape wines." Read the full story here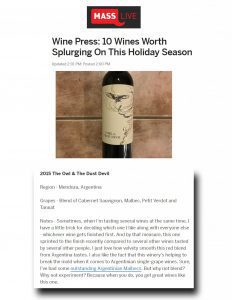 Finca Decero

Agrelo, Mendoza, Argentina

The Owl & The Dust Devil represents the wild side of Finca Decero, an exceptionally expressive and intense red blend that has as its core some of the specialties of Finca Decero. Its impact on the palate is matched by its groundbreaking Virtual Reality packaging.
Agrelo, Mendoza, Argentina

Finca Decero has become recognized not only for having one of the highest quality vineyards in all of Mendoza, but also for catapulting into an elite group of the most highly regarded producers in Argentina. The wines all come from the single Finca Decero vineyard, and the winery's focus is entirely quality focused.