Antonio Galloni visited Chateau Montelena Master Winemaker Bo Barrett during harvest this year, to get a sense of the growing season in the Calistoga AVA of Napa Valley. He caught up with Bo while the Montelena team was "rock'n and roll'n" on the Cabernet. He showed the late season small berries, squeezing one to demonstrate that the small size, skin and minimal juice will help produce wine with great concentrated flavors. There are lots of other great nuggets in this 2 minute video as well!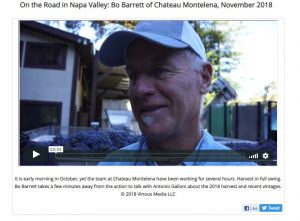 Chateau Montelena

Napa Valley, California

The Estate Cabernet Sauvignon is Chateau Montelena's flagship wine and a quality icon of Napa Valley. The winemaking team works obsessively and passionately with each vintage to capture the best expression of their historic terroir. This is a show-stopper that reveals the perfect blend of flavors, aromas and textures to reach the pinnacle of balance.

Chateau Montelena

Napa Valley, California

A true icon. The Napa Valley Chardonnay is the wine that put Chateau Montelena and Napa Valley at the forefront of the wine world in 1976, in what is now memorialized as "The Judgment of Paris." To great disbelief, the Chateau Montelena Napa Valley Chardonnay was the top-ranking wine against four white Burgundies and five other California Chardonnays. And as they say, the rest is history.

Chateau Montelena

Napa Valley, California

The Napa Valley Cabernet Sauvignon embodies the balance of Montelena, classic "old-world" structure with ripe California fruit.  It is crafted from fruit coming from the Montelena vineyard and several prime neighboring vineyards, all in the Calistoga AVA. The Montelena Napa Cabernet is a wine that delivers immediate pleasure upon release, but in Montelena style, while age and develop beautifully.
Calistoga, Napa Valley, California

In 1976 Chateau Montelena put California at the forefront of the wine world. That year a who's-who of the French wine establishment gathered in Paris for a blind tasting of French and American wines. When the scores were tallied, the top-ranking white wine was Chateau Montelena's 1973 Chardonnay. Montelena today continues to be a quality benchmark in Napa Valley, producing some of the finest Cabernet and Chardonnay in California.