Esquire's Beverage Director of the Year Amy Racine contributed a piece to the publication that features the best Champagne and sparkling wines available to enjoy now, including Juvé & Camps. She suggests Reserva de la Familia 2017 as it is the most widely available cava from the family-owned estate in the U.S.
The writer explains to readers that Cava makers go through the same motions as champagne makers, only they do it in Spain and they use Spanish grapes. Racine adds, "Juvé & Camps cava is also good sparkling that might be in a good wine shop… Its cavas range from blends to single varietals, with the Reserva de la Familia the most widely available." Read the full story HERE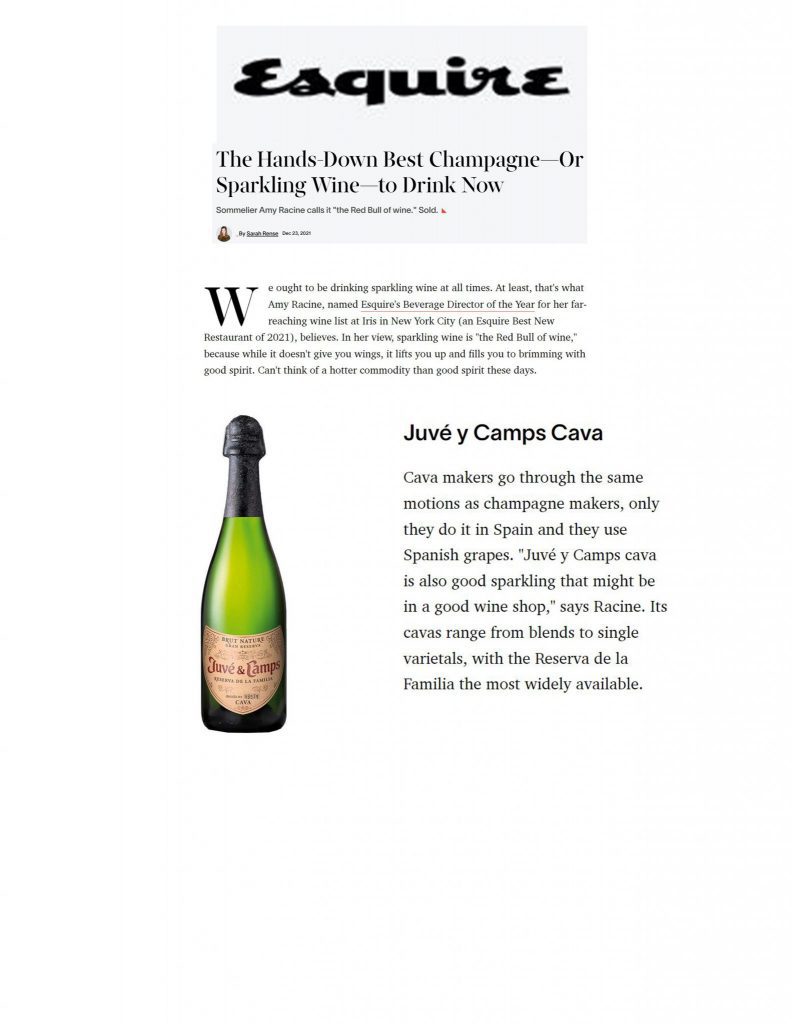 Juvé & Camps

Cava

"Reserva de la Familia" (translating to 'Reserve of the Family') is one of the world's greatest sparkling wines, 100% estate, certified organic, always vintage-dated,  and all the more notable because of the quality needed to produce it without dosage.
Penedès

Juvé & Camps is an indisputable worldwide leader of Spanish premium sparkling wines. This family-owned, 100% estate-based producer is revered in Spain for its painstaking focus on quality and sustainability, and its important role within the country's conversation on fine wine in general. A winegrowing family for over 200 years, in 1921 Juvé started producing the first sparkling wines under their name. They have been pioneers in the viticulture and production of sparkling wines since then. If you have visited Spain, you have seen with your own eyes the prevalence of Juvé & Camps. It is not an exaggeration to call it a national institution.