Forbes recommended Champagne Bollinger La Grande Année Rosé 2012 in a story about the best vintage rosé champagnes available. Additionally, Town & Country recommended Champagne Bollinger Rosé NV in a roundup of the best rosé champagnes.
The Forbes contributor notes that La Grande Année Rosé 2012 "is a blend of 67% Pinot Noir and 33% Chardonnay. You'll notice a light rosy tone in your glass and some dark fruits on the nose. As you sip, you will find notes of stone fruit, citrus, and a little spice." Read the full story HERE
Town & Country describes the Rosé NV as "rich with flavors of red berries and hints of rose, this elegant non-vintage French bottle is just as good with dessert as it is a substitute for one." Full story available HERE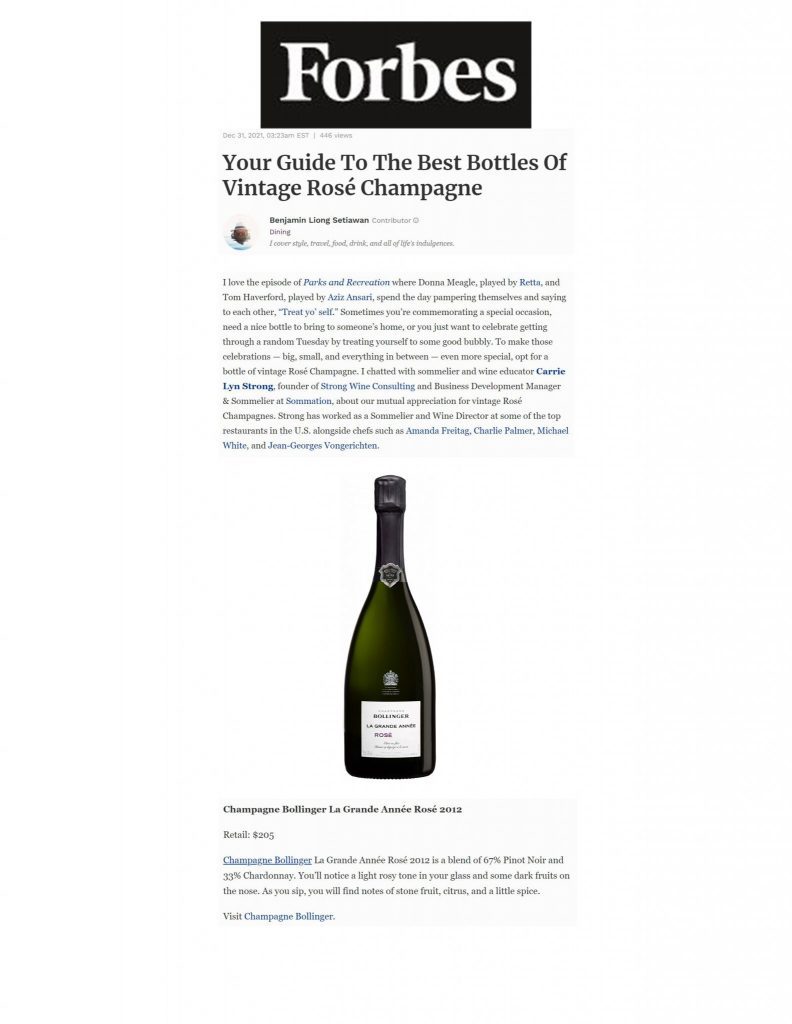 Champagne Bollinger

Champagne, France

Lily Bollinger agreed to a Bollinger rosé under one condition, it had to be extraordinary, and that is how La Grande Année Rosé was born. A blend like no other, the wine is as an extension to the House's prestige cuvée, La Grande Année, as is the subtle marriage between this great vintage Champagne and the addition of red wine from a unique plot, the legendary Côte aux Enfants.

Champagne Bollinger

Champagne, France

In the same way that Special Cuvée stands apart from non-vintage Champagnes, Bollinger Rosé is an exception for Rosé Champagnes. What is more, it is a relative secret, as Bollinger did not release a non-vintage Rosé until 2008 and the quantity produced is quite limited. The wine begins as Special Cuvée and then Bollinger's specialty as the Pinot Noir producer in Champagne takes center stage, as the red fruits that join the conversation dance vibrantly, the finish has just a hint of perfectly repeat tannin, and the deep complexity of the wine shines through transparently.
Champagne, France

Bollinger is one of the rare Grande Marques that's still family owned. Known for its rich, elegant and polished style of Champagne, their outstanding wines are the result of rigorous attention to detail and incredibly labor-intensive practices that few houses are willing to undertake. Underscoring its excellence, Bollinger has remained British secret agent James Bond's Champagne of choice since 1973.