Food & Wine contributor Brian Freedman included 2016 E. Guigal Château d'Ampuis Côte-Rôtie and 2018 E. Guigal Crozes-Hermitage in an article titled, "The 42 Best Syrahs to Buy Right Now."
He says the aromatics found in the Château d'Ampuis Côte-Rôtie "are textbook examples of why the name Guigal is often used so synonymously with the great wines of Côte-Rôtie: Cracked white peppercorns, leather, scrubby dried herbs, cured black olives, and brambly berries are fleshed out on the palate with black cherries and raspberries, deeply grilled stone fruit, and spice, all of which is sweetened up with a wave of blueberry cobbler on the spice-sizzled yet still generous and subtly floral finish.
Amazing right now, and will continue to evolve for another 15 – 20 years. Also don't miss the 2018 E. Guigal Crozes-Hermitage ($35), whose savory character-soy, hoisin sauce, marrow with fresh-cracked pepper-finds delicious counterpoints in cassis, crushed blackberries, and plum pudding that linger through the long, haunting, yet vibrant finish. This is a lot of wine for the price." Read the full story HERE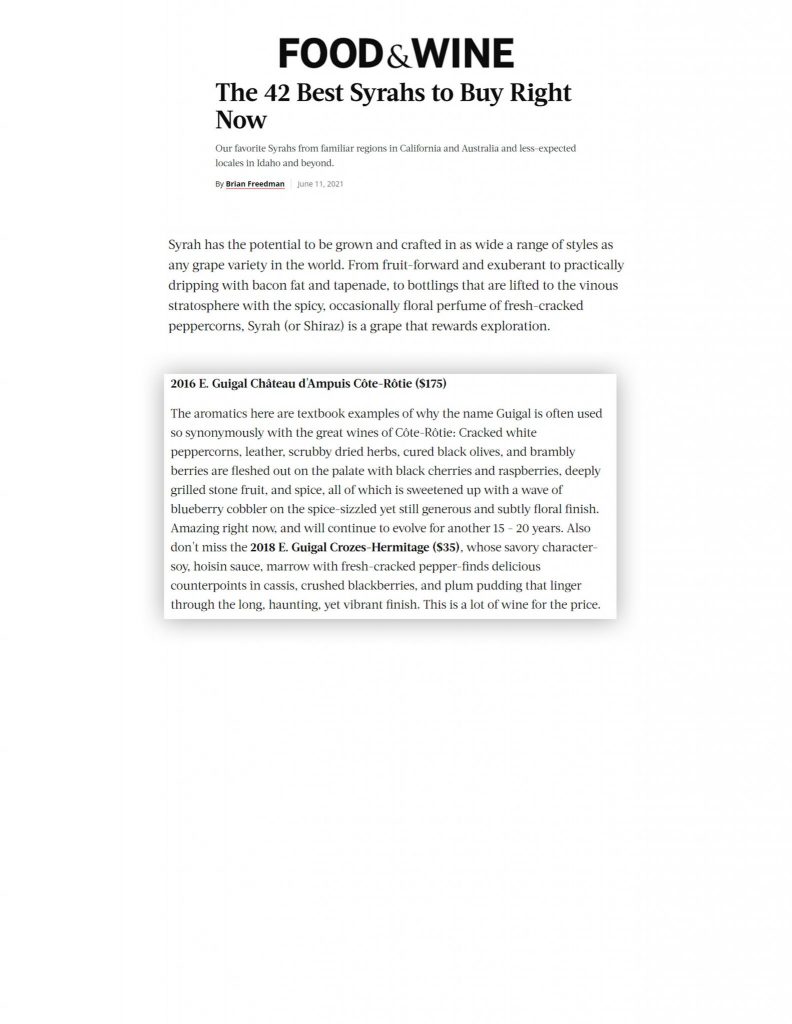 E. Guigal

Côte-Rôtie

The Guigal family spent 15 years restoring Château d'Ampuis, a historic property whose oldest sections date to the 11th century. The Château d'Ampuis has been the symbol of the town of Ampuis and the world-renowned Côte-Rôtie vineyard area for ten centuries. When the Guigal family learned that there was at one time a wine produced with the Château d'Ampuis name, they decided to produce an exceptional wine that would showcase the best that Côte-Rôtie has to offer.

E. Guigal

Crozes-Hermitage

Crozes-Hermitage can be considered the gateway to the red and white wines of the Northern Rhône Valley. The reds, which are the majority of production, have wonderful warm flavors of red and black fruit, and typical Syrah pepper, spice and savory notes.
Rhône Valley, France

The more you learn about the Guigal family, the more astounding becomes their story.  Their wines are the benchmarks for every Rhone appellation, and over the last thirty years they have become arguably the most lauded producer in the world.  Year after year the Guigal family produces wines of exceptional quality that in all classes offer exceptional value.