Rachael Ray Magazine published an article to help readers select "cool, complex" white wines from around the world that will offer immediate pleasure, such as Guigal Côtes du Rhône Blanc 2019. The piece focuses on varietals that are less common than Pinot Grigio, for example.
The writer explains, "the Rhône Valley is known for its Hermitage and Châteauneuf-du-Pape reds, but it also produces deliciously complex and food-friendly white wines, thanks to local grapes viognier, marsanne, and roussanne. Elegant, powerful, and balanced, they're as great with grilled lamb and pork and cheese as the reds they're typically paired with. I recommend Guigal Côtes du Rhône Blanc. Read the full story HERE.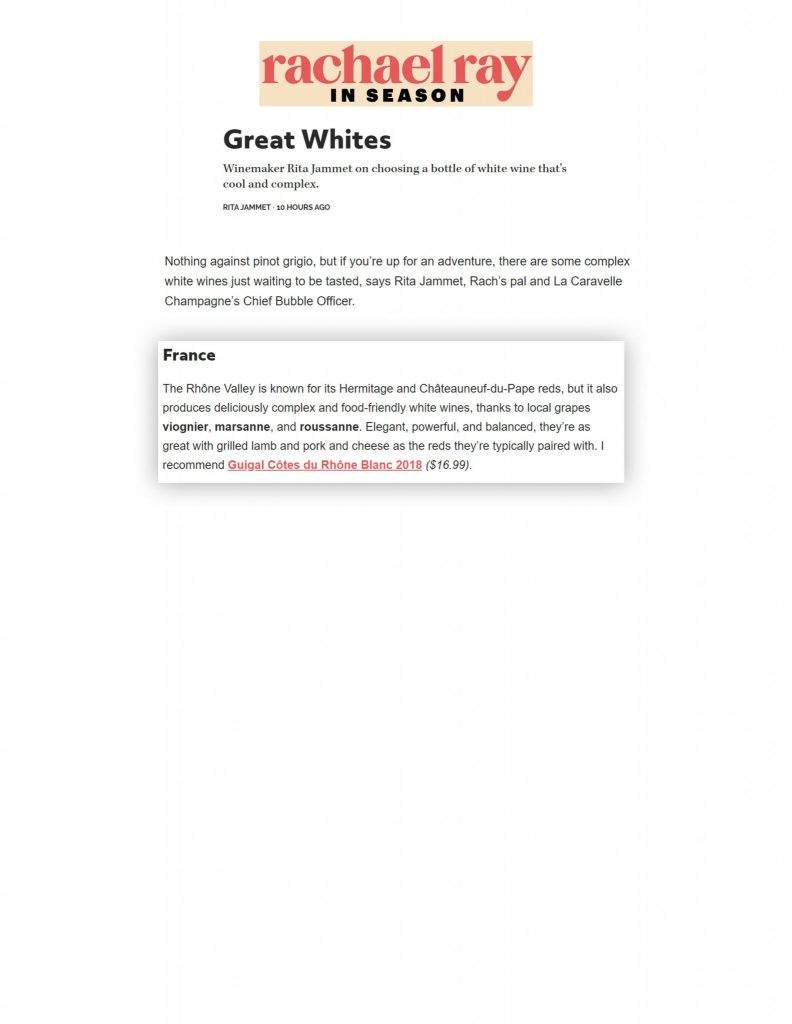 E. Guigal

Côtes du Rhône

Guigal's Côtes du Rhône Blanc both sets and steps outside the standard for the appellation and showcases one of the great secrets of the Guigal family: their specialization in the great white Rhône varieties. While only 8% of the Rhône's production is white, a full 25% of Guigal's production is white and they are today the single largest producer of whites in the Rhône Valley.
Rhône Valley, France

The more you learn about the Guigal family, the more astounding becomes their story.  Their wines are the benchmarks for every Rhone appellation, and over the last thirty years they have become arguably the most lauded producer in the world.  Year after year the Guigal family produces wines of exceptional quality that in all classes offer exceptional value.