The Capital Gazette and South Florida Reporter published a story highlighting the white wines of the Rhone Valley, including Guigal Condrieu 2018. While, unfortunately, not many people think about the Rhone Valley when selecting white wines, those in the know are aware that whites are actually a specialty at Guigal!
Writers Tom Marquardt and Patrick Darr add, "the second-largest wine-producing region of France, the fertile Rhone Valley meanders aside the Rhone River and is more valued for its syrah-driven Cote Rotie and Hermitage than it is for its viognier-driven Condrieu. Yet anyone who has been seduced by viognier's aromatics or its delicate stone-fruit flavors learns that Condrieu has no equal."
The Guigal Condrieu 2018 features "pear and white peach flavors with a thread of minerality." They add that a taster commented, "this is a wine I could hang out with." Read the full story here: HERE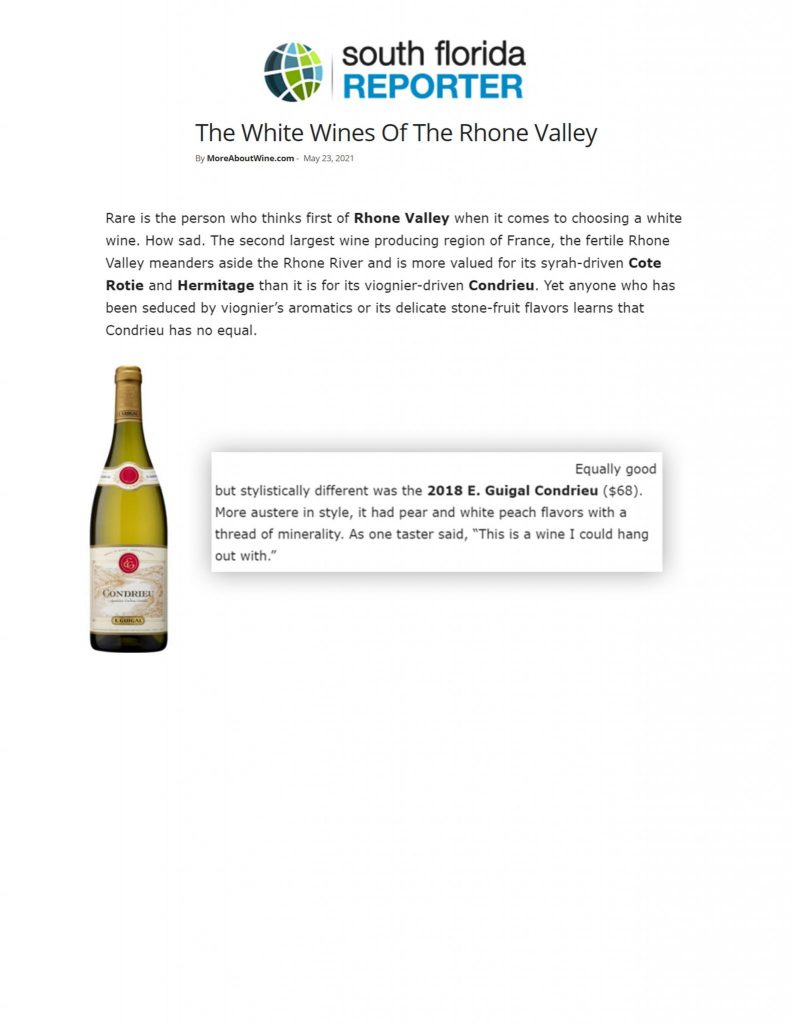 E. Guigal

Condrieu

Condrieu is the ancestral home of the Viognier vine and is the source of one of the world's most exotic white wines. In the mid-20th century, only 20 acres of Viognier remained in Condrieu, leaving the grape and the appellation in serious jeopardy. Guigal was instrumental in bringing this appellation back from near extinction, and today supplements the grapes from their own vineyards with grapes purchased from numerous small growers, ultimately vinifying nearly one-third of the entire appellation.
Rhône Valley, France

The more you learn about the Guigal family, the more astounding becomes their story.  Their wines are the benchmarks for every Rhone appellation, and over the last thirty years they have become arguably the most lauded producer in the world.  Year after year the Guigal family produces wines of exceptional quality that in all classes offer exceptional value.