The Knot included Château Minuty as the ideal rosé to serve at a summer wedding, along with quotes from co-owner Francois Matton. The piece delves into several helpful tips for a successful summer wedding, including the menu.
As for why, the writer says "summer is also unofficially known as 'rosé season,' meaning it's the best time of year to serve guests this popular pink wine—or even better, a summery rosé cocktail." As many summer weddings are outdoors, "chilled rosé is one of the most refreshing beverage options you can choose," says François Matton, third-generation co-owner of Château Minuty. "It's an extremely versatile wine that can transition beautifully from aperitifs to the dinner table, and it's even a great option to enjoy on the dance floor. My favorite way to enjoy rosé is as it is, but it can also make a refreshing signature cocktail inspired by its own flavor profile and aromas." Read the full story HERE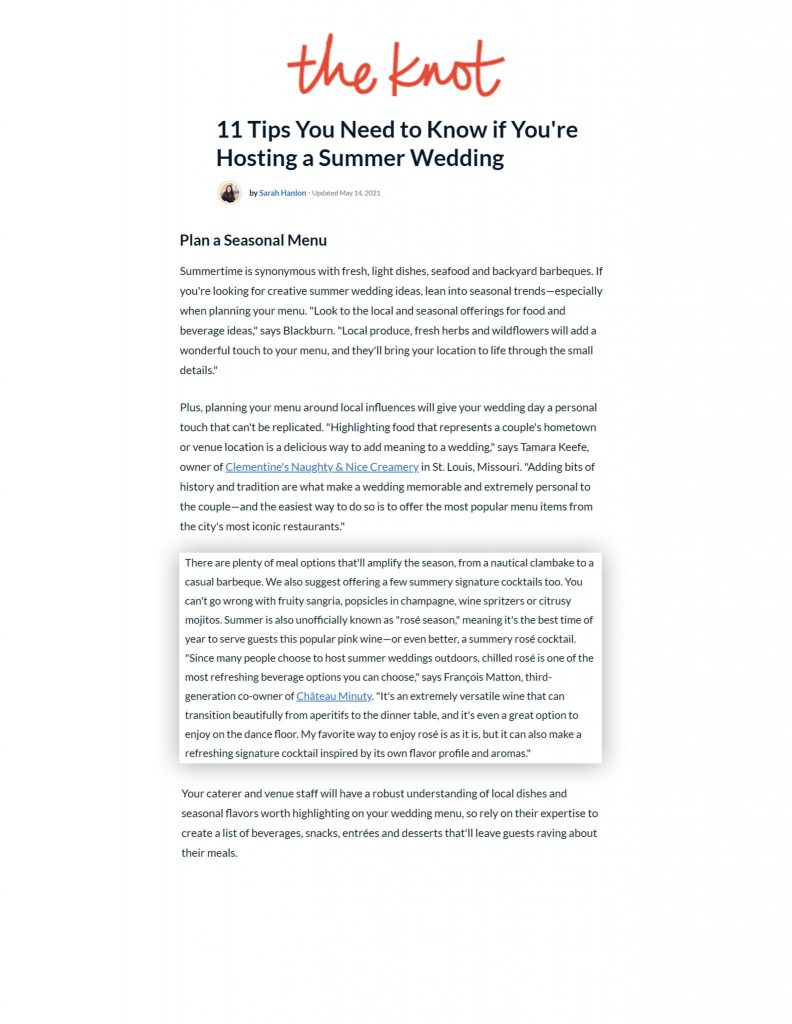 Côtes de Provence

Château Minuty is the global leader in Côtes de Provence rosé, and beyond that it can be argued is the most important estate in the history of Provence rosé. The Saint-Tropez based, family owned estate has been, since its founding, one of the quality leaders for the region. Minuty then became one of the most visible producers in the second half of the 20th century, a result of quality production and commercial foresight when no one in the region could imagine the global phenomenon Provence rosé would become. And then in the last two decades, Minuty defined the vision for and led the unbelievable growth in Provence rosé around the globe.