Peter Liem participated in a preview tasting of Champagne Bollinger R.D. 2007, and shared his full review with Champagne Guide subscribers.
As always, Liem offers an approachable introduction to the wine and shares details on grape varietal breakdowns and fruit sourcing, adding "just 14 crus rather than the customary 20 due to the viticultural challenges of 2007, and it's heavily reliant on Verzenay, which, unusually for the house, even surpasses Aÿ in this release (29 percent of the former vs. 21 percent of the latter)."
Continuing, he says, "the most immediately striking element of this wine is how it prioritizes finesse over power: the long lees aging (this bottle was disgorged on 10 July 2020) seems to have imparted a certain refinement of texture, and overall this is lively and lissome, with a bright freshness of flavor. It acquires a subtle nuance and detail as it sits in the glass, feeling composed and elegantly carried, and its fruit flavors become increasingly redder in tone, backed by a subtly ornate, even exotic spiciness."
He offers several more details in the review. It is definitely worth purchasing an annual subscription to gain access his reviews, as his depth of knowledge is incredible.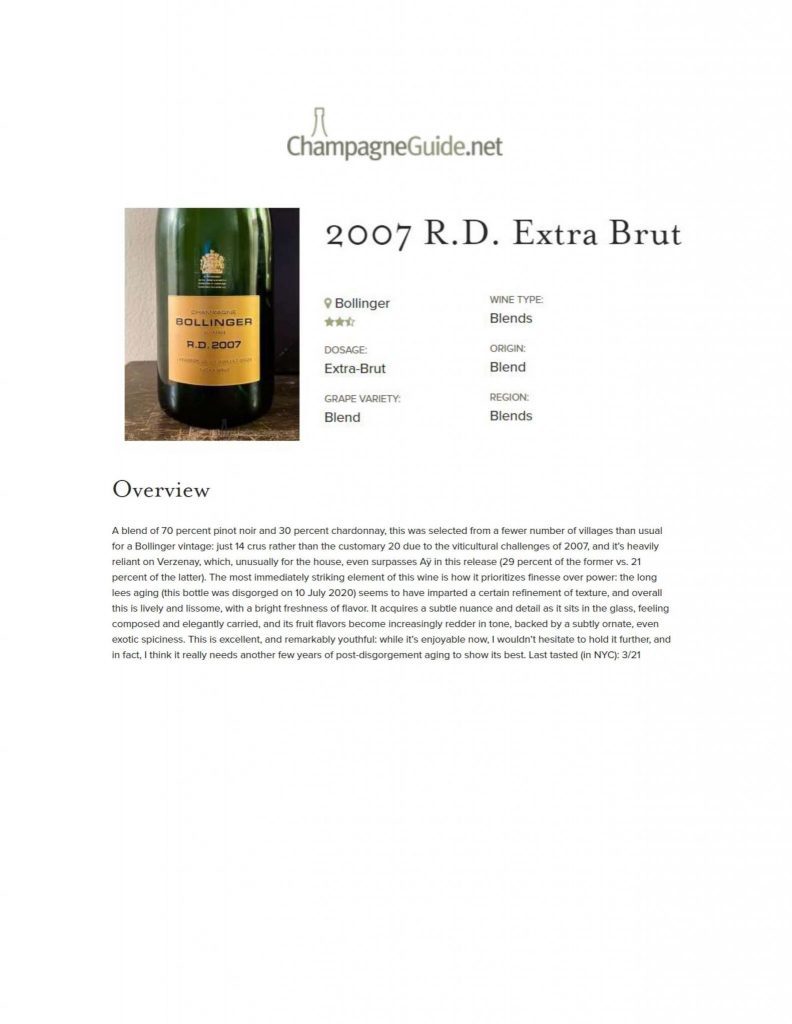 Champagne Bollinger

Champagne, France

A small revolution in the world of Champagne. In 1967, Bollinger releases R.D. 1952.  There is no comparable Champagne on the market at the time. This bold and brilliant Champagne takes the pillars of what makes Champagne Bollinger so unique, and pushes them to their ultimate level. It is, very simply, a masterpiece.
Champagne, France

Bollinger is one of the rare Grande Marques that's still family owned. Known for its rich, elegant and polished style of Champagne, their outstanding wines are the result of rigorous attention to detail and incredibly labor-intensive practices that few houses are willing to undertake. Underscoring its excellence, Bollinger has remained British secret agent James Bond's Champagne of choice since 1973.