Forbes writes that "with the hope of a new turn in both politics and medicine, there are a few reasons to pop a cork—if for no other reason, than to bid 2020 adieu with a bang." Champagne Bollinger PN VZ15 is among the special wines recommended to help welcome 2021 in with.
Bollinger is selected as "your reward for making it through the year." Continuing, writer Lana Bortolot says, "its historic James Bond and "AbFab" associations, Bollinger ("Bolly," as the Brits call it) might make it the coolest of the Grandes Marques houses or, at least, with the savviest pop-culture marketing."
Now about the wine, she selected Bollinger's first new addition to the permanent range in over a decade. After providing a bit of background on the PN VZ15 name, she adds that the "wine was created as a little brother to Vieilles Vignes Françaises, Bollinger's famous tiny-production wine made from pre-phylloxera Pinot Noir grapes." This new NV pure expression of Pinot Noir is available at a more accessible price point.
"It's full-bodied with Bolly's hallmark richness, more in the realm of earthy and dried-fruit tones, hazelnut but elevated by stone fruit compote —apricots and peach. A complete wine to enjoy with egg or mushroom/truffle dishes, aged cheeses." Read the rest of the story and Lana's write up HERE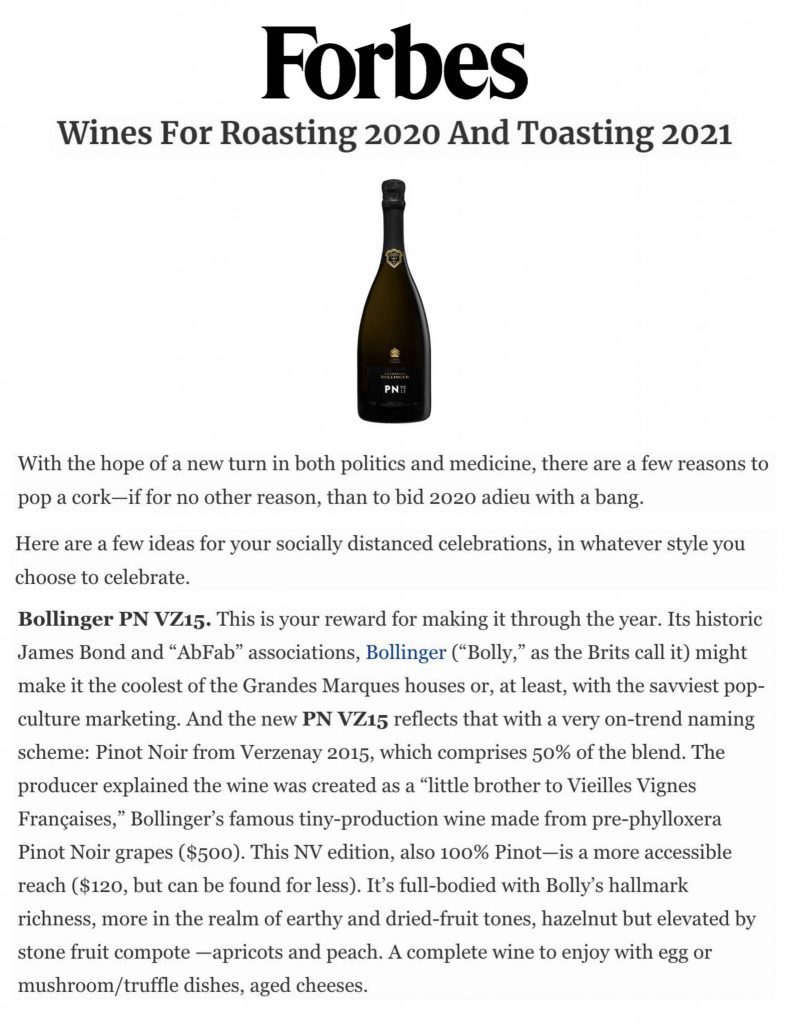 Champagne Bollinger

Champagne, France

PN, made entirely from Pinot Noir to underscore the very essence and DNA of the House style, is the first new cuvée added to Bollinger's permanent range since rosé in 2008. Each release of PN, developed as a series to bring Bollinger's unique vision of Pinot Noir to light, will showcase a different cru from the base year that highlights its distinctive terroir and taste. The first edition of the series, PN VZ15, explores the interpretation of Pinot Noir from Verzenay 2015 and features reserve wines dating back to 2009.
Champagne, France

Bollinger is one of the rare Grande Marques that's still family owned. Known for its rich, elegant and polished style of Champagne, their outstanding wines are the result of rigorous attention to detail and incredibly labor-intensive practices that few houses are willing to undertake. Underscoring its excellence, Bollinger has remained British secret agent James Bond's Champagne of choice since 1973.