The New York Times' wine columnist Eric Asimov has shared his recommendations for excellent Champagne Houses – including Champagne Bollinger – as well as smaller, grower-producers worth seeking out this holiday season. The column is accompanied by a helpful glossary with short descriptions of each.
What do consumers need to know about Bollinger? "Renowned for wines that combine power and finesse. The nonvintage Special Cuvée ($65) is superb, as are the vintage Grand Année ($175) and R.D. ($275)." See the full article HERE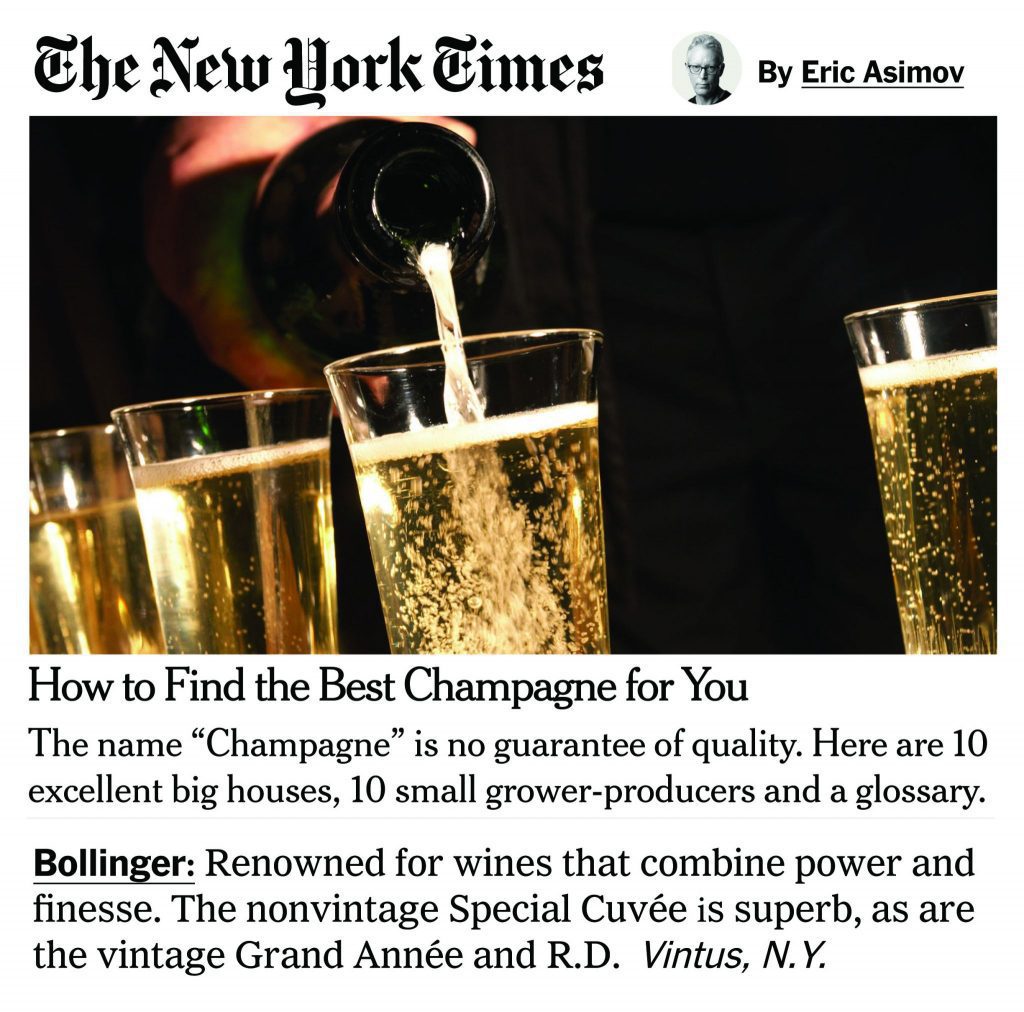 Champagne Bollinger

Champagne, France

From vineyard to bottling, Special Cuvée sees such an extraordinary level of care and attention, it is difficult to place within the non-vintage or, really, any Champagne category. It is a Champagne that stands apart. Within one bottle, all the complexity of flavour, texture and pleasure that Champagne can offer. Special Cuvée is truly a journey of devotion from Bollinger.

Champagne Bollinger

Champagne, France

A small revolution in the world of Champagne. In 1967, Bollinger releases R.D. 1952.  There is no comparable Champagne on the market at the time. This bold and brilliant Champagne takes the pillars of what makes Champagne Bollinger so unique, and pushes them to their ultimate level. It is, very simply, a masterpiece.

Champagne Bollinger

Champagne, France

La Grande Année: The Great Year. This Champagne is the embodiment of everything that makes Bollinger the producer that stands apart in Champagne. La Grande Année, or LGA, preserves the traditions of the past and symbolizes the word "hand-crafted" so strongly that an overused word suddenly becomes the only appropriate definition.
Champagne, France

Bollinger is one of the rare Grande Marques that's still family owned. Known for its rich, elegant and polished style of Champagne, their outstanding wines are the result of rigorous attention to detail and incredibly labor-intensive practices that few houses are willing to undertake. Underscoring its excellence, Bollinger has remained British secret agent James Bond's Champagne of choice since 1973.