The Washington Post highlighted Champagne Ayala Brut Majeur NV as one of five exceptional sparkling wines to enjoy this season without breaking the bank. Longtime wine columnist Dave McIntyre gives Ayala's flagship wine an "extraordinary" three star rating, recommending it as a great value in the Champagne region.
As context, he explains "the Brut Majeur is Ayala's main cuvée, blended from equal parts chardonnay and pinot noir, with 20 percent of the blend from pinot meunier. The wine is crisp and refreshing, with flavors of citrus and white flowers and lovely complexity. A decent value for the price in champagne. Ayala also makes a rosé and an all-chardonnay blanc de blancs. Alcohol by volume: 12 percent." Read the full story HERE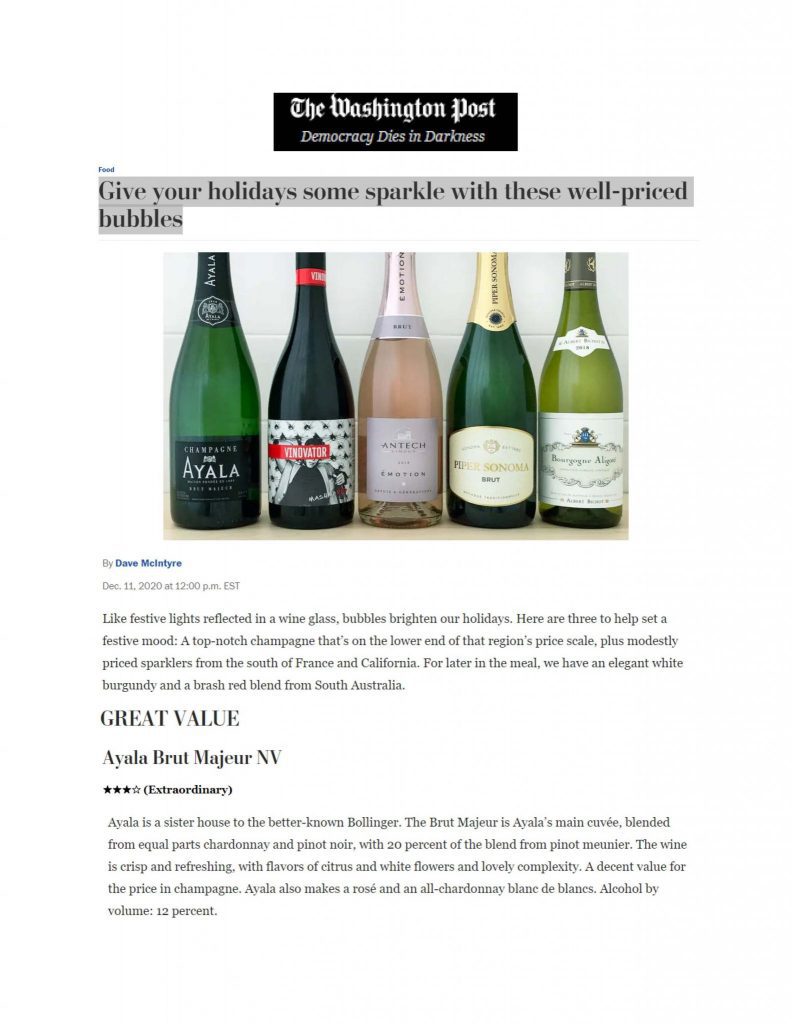 Champagne Ayala

Champagne, France

Brut Majeur is the epitome of a non-vintage brut from a great, historic House and is the finest ambassador for the House's freshness and elegance. A blend of Chardonnay, Pinot Noir and Pinot Meunier grapes, coupled with extended aging in Ayala's cellars and a low dosage, make this wine suitable for any occasion.
Champagne, France

Ayala is one of the most exciting stories in Champagne today, almost the definition of a boutique Champagne producer. Independently owned, a small, young and dynamic team handles every step of production from grape reception to labeling in their jewel of a facility with incredible precision, crafting Chardonnay-focused wines that deliver immense pleasure, freshness, and elegance.