Mass Live's latest wine column is dedicated solely to sparkling wines and champagnes for the holidays, including Champagne Ayala Brut Majeur. Columnist Ken Ross starts off by saying how everyone could use some beautiful, refreshing bubbles right now and then delves into the history, backgrounds and differences of several sparkling wine producing regions.
He highlights Brut Majeur as one of his top picks from the the Champagne region, stating how amazing it is how so many terrific, differentiated wines can come from the same, small place. Continuing, "that's certainly the case with this elegant Champagne created by this under-the-radar Champagne house. Blended by female cellar master Caroline Latrive, this combination of 40 percent Chardonnay, 40 percent Pinot Noir and 20 percent Pinot Meunier has a bright, lively, crisp finish with a playful touch of fruitiness on the nose. And who couldn't use something light and playful right now in their lives?"
Read the full story HERE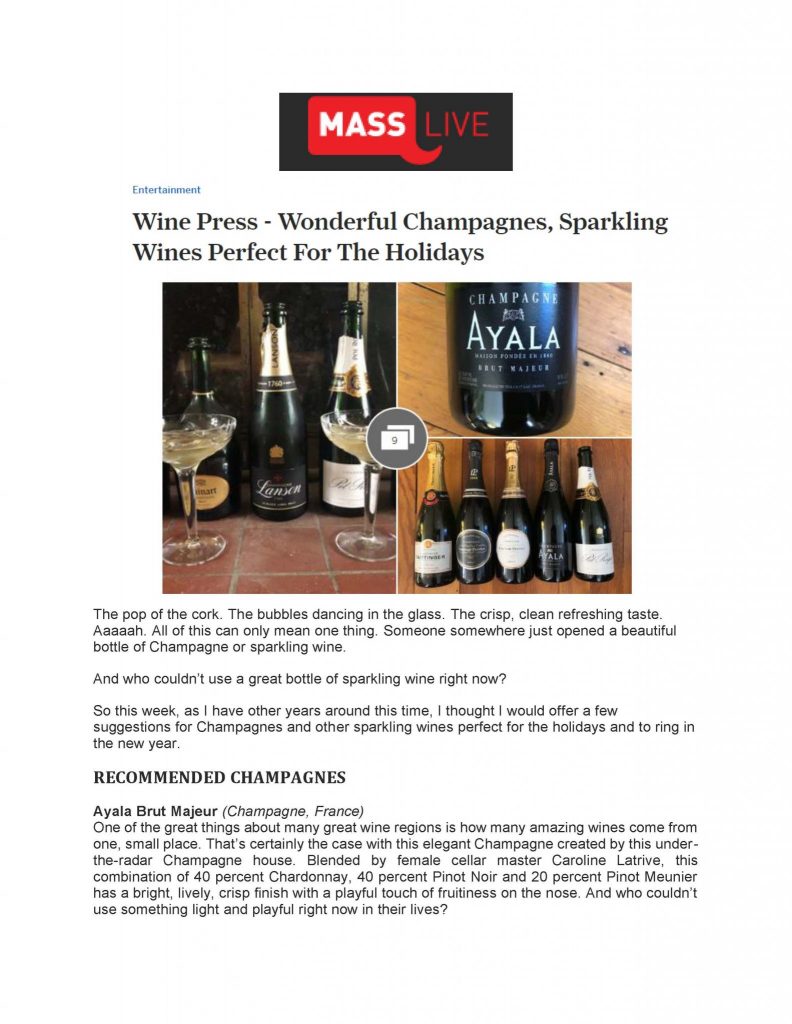 Champagne Ayala

Champagne, France

Brut Majeur is the epitome of a non-vintage brut from a great, historic House and is the finest ambassador for the House's freshness and elegance. A blend of Chardonnay, Pinot Noir and Pinot Meunier grapes, coupled with extended aging in Ayala's cellars and a low dosage, make this wine suitable for any occasion.
Champagne, France

Ayala is one of the most exciting stories in Champagne today, almost the definition of a boutique Champagne producer. Independently owned, a small, young and dynamic team handles every step of production from grape reception to labeling in their jewel of a facility with incredible precision, crafting Chardonnay-focused wines that deliver immense pleasure, freshness, and elegance.