Wine Enthusiast included Contra Coast, California winery Halcyon in a story dedicated to Cabernet Franc, the "parent of powerhouse red variety Cabernet Sauvignon." Despite what you may think, the focus of the piece isn't on red wine – rather it highlights "layered white wines" produced by an "adventurous set of American winemakers" that are showing this grape off in a new light.
Tyler and Kim Elwell, the husband-and-wife team at Halcyon, actually focus exclusively on California Cabernet Franc and Blanc of Cabernet Franc "was born out of a desire to add a white to their portfolio." Tyler added, "when you restrict yourself to one grape, you have to get creative." They also press whole-cluster and limit color extraction to produce this bright bottling. Read more about flavor characteristics and other examples of white cab franc HERE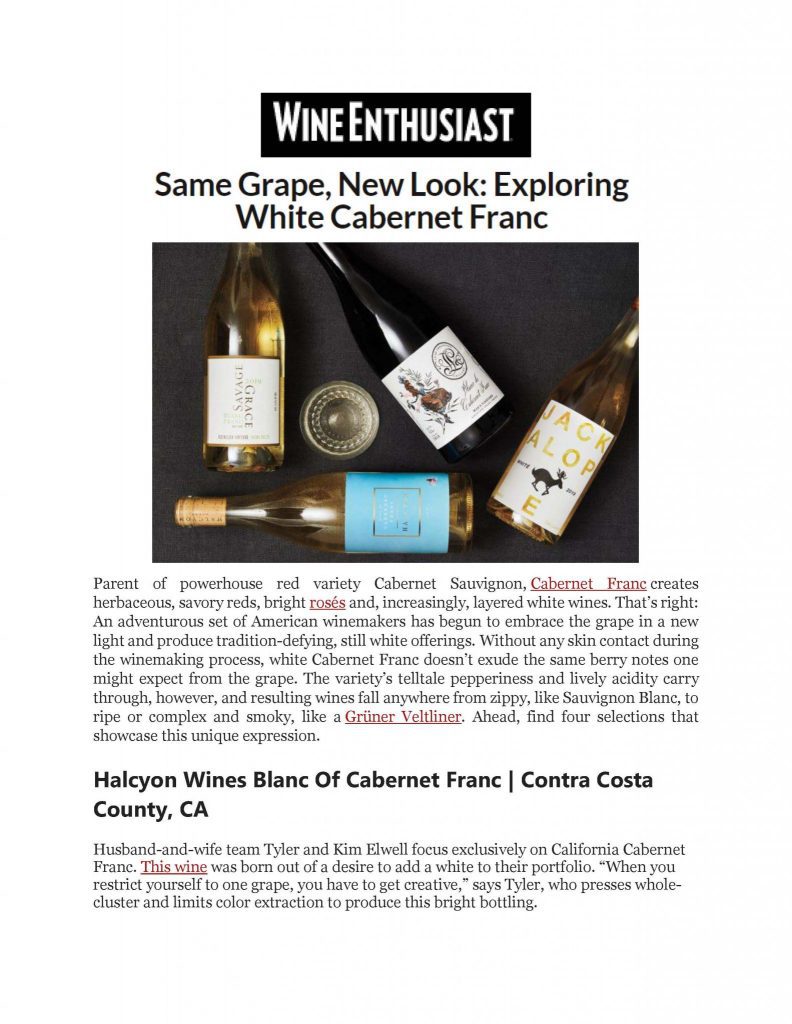 Halcyon Wines

Contra Costa County

A delightfully surprising white wine made from 100% Cabernet Franc, the Halcyon Blanc of Cabernet Franc is incredibly fresh, fragrant, and versatile. After years of extracting a slight orange color from Cabernet Franc when trying to make rosé, Tyler decided to go rogue and just press the skins directly. The result was a clear and brilliant white wine that has quickly become a favorite.
California, United States

Tyler and Kim Elwell launched Halcyon Wines in 2013 after Tyler discovered an intriguing Cabernet Franc vineyard along the Central Coast—a varietal he always dreamed of working with. Tyler, who was raised in Santa Barbara, has since scoured the vineyards of California to find Cabernet Franc planted in a wide variety of climates and terroirs. Focusing on sustainably farmed vineyards and minimal winemaking, Halcyon highlights the versatility and range of an often misunderstood grape varietal. Cabernet Franc takes center stage in all it's forms - white, red, and bubbly. Kim has worked to express the energy and tone of these unique wines through artful labels and playlists of songs that pair with the wines. Together the Elwells combine their deep-rooted love of wine and California, bringing you a nouveau take on California Cabernet Franc.