Market Watch included the launch Champagne Bollinger PN VZ15 in its New Products feature within the current issue. The write up explains that this addition to Bollinger's permanent range "is made from 100% Pinot Noir grapes and kicks off a new series of wines showcasing various crus across Champagne." The piece speaks to the first edition, which is made of 50% Pinot Noir from the Verzenay cru harvested in 2015 and offers insight on reserve wines featured as well as the other crus incorporated. Read the full piece HERE .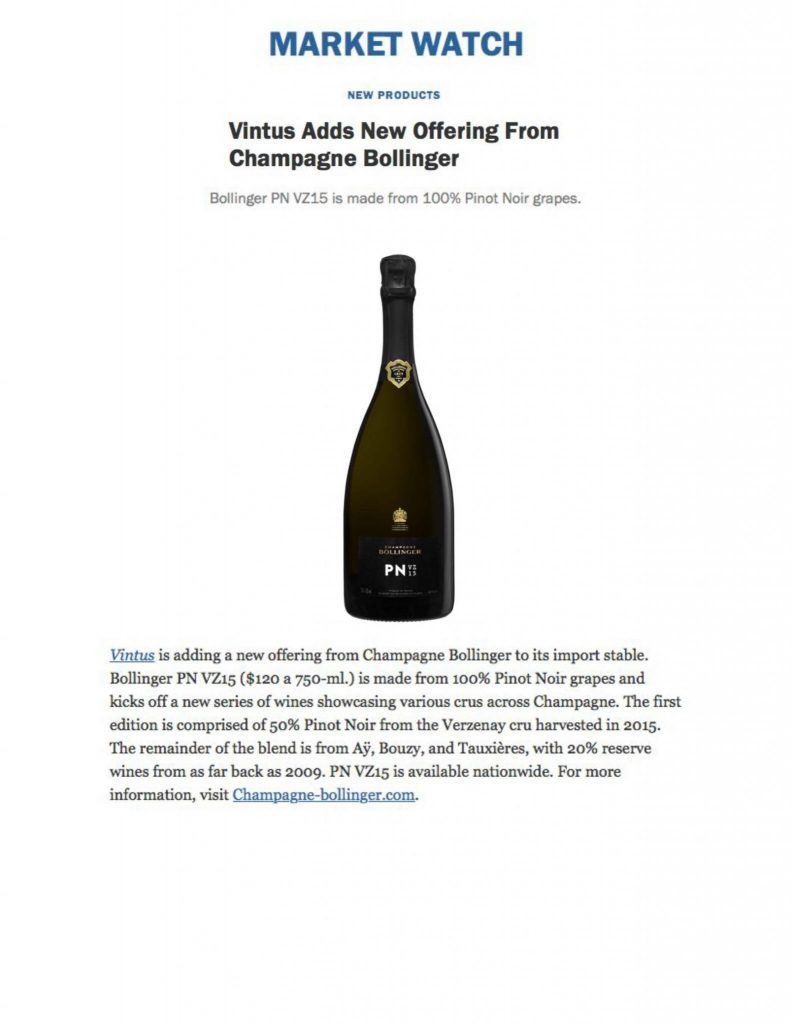 Champagne Bollinger

Champagne, France

PN, made entirely from Pinot Noir to underscore the very essence and DNA of the House style, is the first new cuvée added to Bollinger's permanent range since rosé in 2008. Each release of PN, developed as a series to bring Bollinger's unique vision of Pinot Noir to light, will showcase a different cru from the base year that highlights its distinctive terroir and taste. The first edition of the series, PN VZ15, explores the interpretation of Pinot Noir from Verzenay 2015 and features reserve wines dating back to 2009.
Champagne, France

Bollinger is one of the rare Grande Marques that's still family owned. Known for its rich, elegant and polished style of Champagne, their outstanding wines are the result of rigorous attention to detail and incredibly labor-intensive practices that few houses are willing to undertake. Underscoring its excellence, Bollinger has remained British secret agent James Bond's Champagne of choice since 1973.