Bloomberg wine columnist Elin McCoy's latest column boldly suggests that consumers go beyond Provence – and look to Italy – when reaching for their next pink wine and recommends Attems Ramato.
She reasons, "Italy's rosas offer a wider range of hues than do French rosés, from pale salmon to an intense, dark-cherry pink. Taste diversity runs from light and bright to soft, round, and fruity and even bold, rich, and full-bodied. They brim with savory, cherry, and herb flavors that will still be delicious on the table long after Labor Day."
The "rich, spicy" Attems Ramato, from Friuli in the northeast "shows off mineral tones and a slightly bitter aftertaste that make it superb with food," notes McCoy. She adds a bit of context on the winemaking, explaining "crushed pinot grigio grapes were traditionally left on the pinkish skins to pick up color and flavor." Read the full story at the link HERE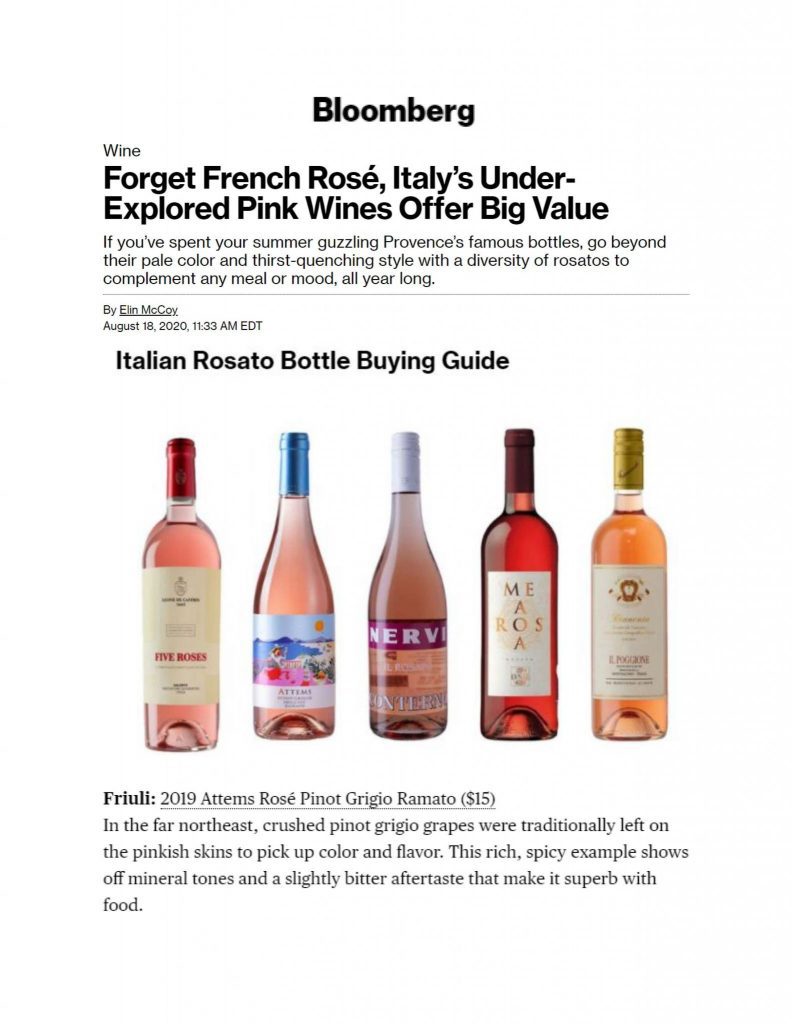 Attems

Friuli DOC

Attems Pinot Grigio Ramato continues a traditional way of producing Pinot Grigio in the province of Venice. The term ramato, or "coppery", was used to describe the pink hue of the wine due to the slight contact with the purple skins before pressing and fermenting. This rosé boasts a rich, fruity bouquet, and opens full on the palate, with multi-faceted flavors.
Friuli, Italy

Attems is one of the most historic producers in the northern Italian region of Friuli, with a winemaking heritage dating back nearly a millennium. Attems wines have a decidedly Friulian character: fresh, full of flavor and elegant, they respect the singularity of the unique terroir of a region ripe for discovery.