Vinepair columnist Ed Deitch highlighted Guigal's vibrant Côtes du Rhône Rosé 2019 in his most recent write up. In addition to differentiating this style from those produced in Provence, Deitch notes "this is serious rosé. It's a departure from all those "fun" rosés that are marketed as easy-drinking lifestyle wines." He adds, "Guigal's Côtes du Rhône Rosé almost demands a food context — full-flavored fish, jerk chicken, even grilled leg of lamb are among the possibilities."
He offers more in depth tasting note details, but this description helps you almost imagine drinking it: " Light copper in color, this is a relatively full-bodied rosé with aromas and tastes that suggest spicy strawberry, raspberry, and orange zest, as well as flowers, white pepper, and minerals, followed by a slightly creamy overlay on the long finish. " Read his full review HERE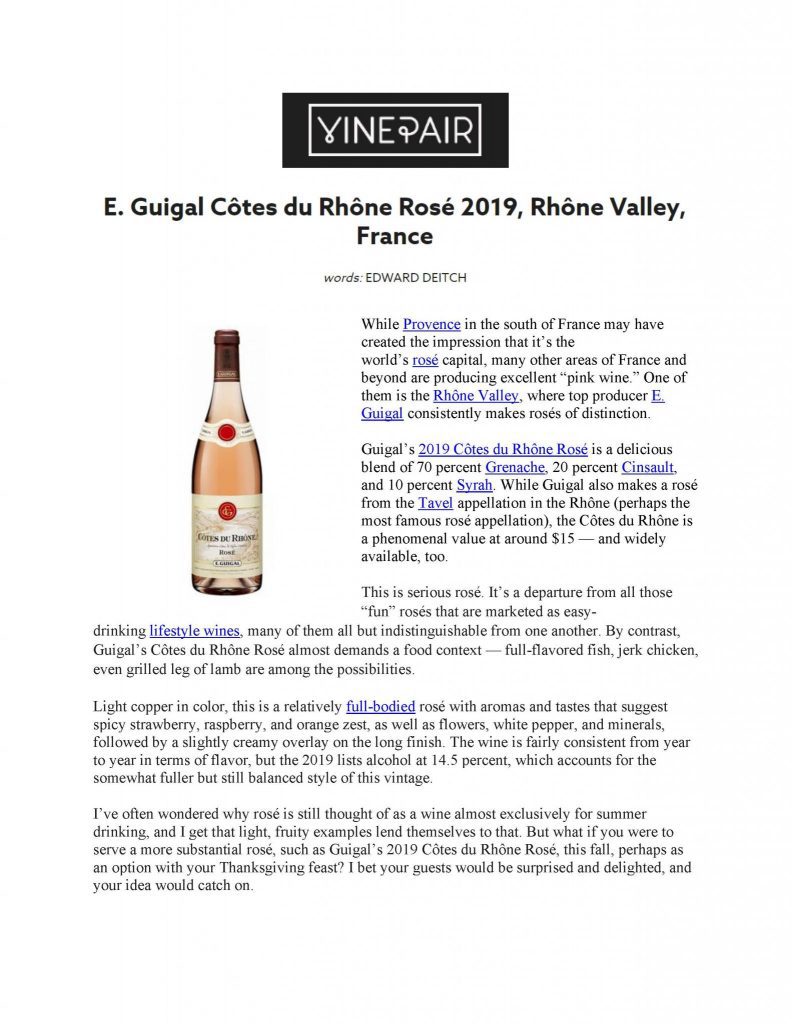 E. Guigal

Côtes du Rhône

The Guigal family has made serious rosé wines since the 1940s, and their Côtes du Rhône Rosé, like all their Côtes du Rhône wines, is humble in name only. The wine bursts with irresistible fresh red fruits and yet is also long and satisfying. Because of its quality and body, it's a rosé that you can bring to the table, and do so all year long. It is a rosé that offers both refreshment and pleasure.
Rhône Valley, France

The more you learn about the Guigal family, the more astounding becomes their story.  Their wines are the benchmarks for every Rhone appellation, and over the last thirty years they have become arguably the most lauded producer in the world.  Year after year the Guigal family produces wines of exceptional quality that in all classes offer exceptional value.