Allison Levine, owner of Please the Plate, freelance writer, and host of the podcast Wine Soundtrack USA, shares all the pink wines that have been keeping her happy this summer in her latest piece for the Napa Valley Register. In her helpful guide, Levine features the 2019 Minuty Prestige Rosé as an exceptional choice for the quintessential french style of rose. The wine is reviewed as "almost translucent pale pink color. Floral, citrus and strawberry aromas swirl out of the glass, and on the palate the wine is bright, light and crisp with good acidity and citrus notes carrying through to the finish."
To learn more about rosé and Chateau Minuty, read the full piece HERE.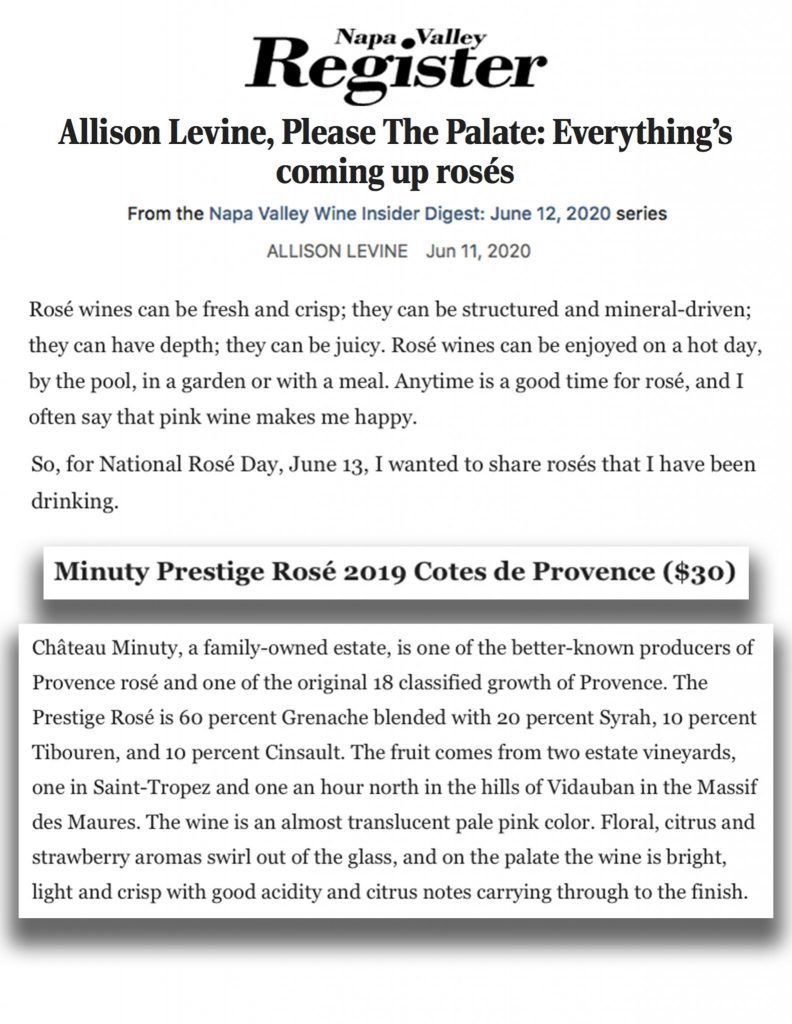 Château Minuty

Côtes de Provence

If you notice just one wine on the beach and seaside restaurants in the south of France, it is almost certainly Minuty Prestige. This wine has become the emblem of the Riviera lifestyle, and it is place that has been earned through the unbelievable dedication to quality by the Minuty family.
Côtes de Provence

Château Minuty is the global leader in Côtes de Provence rosé, and beyond that it can be argued is the most important estate in the history of Provence rosé. The Saint-Tropez based, family owned estate has been, since its founding, one of the quality leaders for the region. Minuty then became one of the most visible producers in the second half of the 20th century, a result of quality production and commercial foresight when no one in the region could imagine the global phenomenon Provence rosé would become. And then in the last two decades, Minuty defined the vision for and led the unbelievable growth in Provence rosé around the globe.