Good Housekeeping recommends the 2019 Chateau Minuty M de Minuty Rosé as one of their top wines to enjoy this summer. As temperatures warm up, wine lovers are ready to trade earthy and tannic reds for lighter wines. However there doesn't' have to be a compromise in quality, " just because it's pink doesn't mean rosé wine doesn't have just as much complexity and pairing power!"
The 2019 Minuty M de Minuty Rosé is priased for its classic Cotes de Provence nature, "light, bright, and wonderfully smooth. You'll notice orange peels and red currant notes. Try it alongside French fare, grilled meat or fish, or as an appetizer beverage with crudité. Plus, this limited-edition bottle is pretty enough to save as a vase or to hold olive oil or salad dressing. "
Read the full story HERE.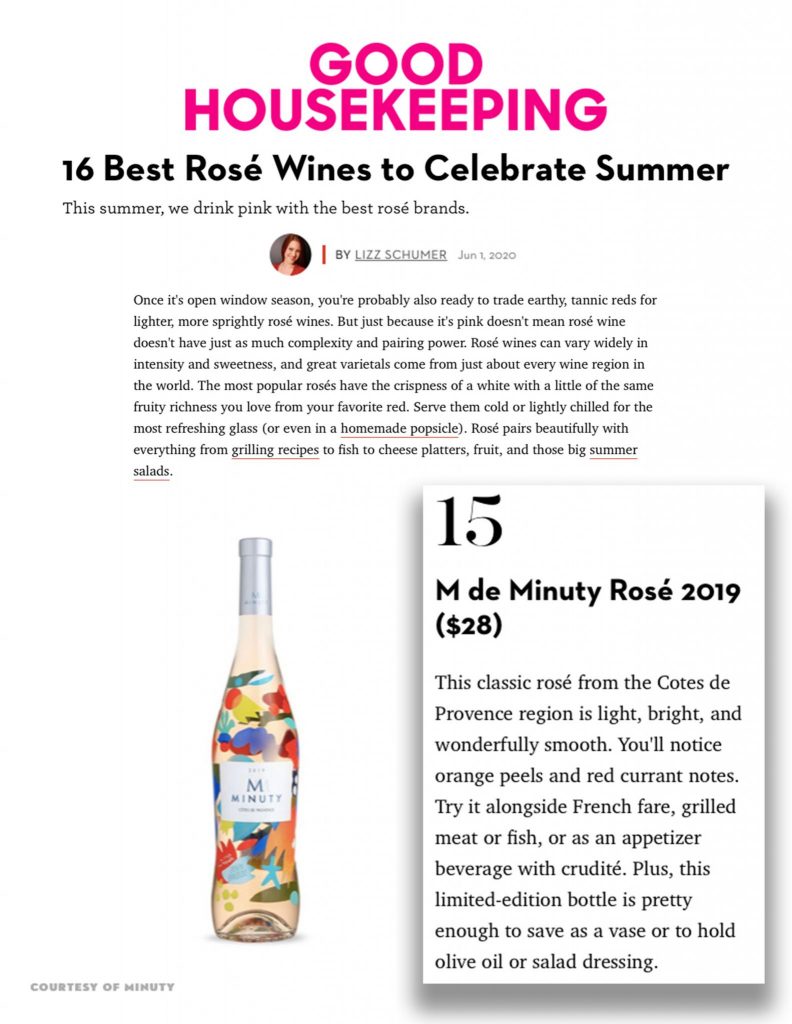 Château Minuty

Côtes de Provence

M de Minuty is the quintessential Côtes de Provence rosé, a style that Chateau Minuty defined,and is the reason behind their success as the world's top producer of premium rosé. Fresh, lively and perfectly balanced, fantastic quality, a glass in hand transports you to the seaside and the French riviera lifestyle, watching the sea and the sky, surrounding yourself with friends and family, and enjoying life to the fullest.

Château Minuty

Côtes de Provence

Minuty invites you to savor the essence of the French Riviera with its third M de Minuty Limited Edition bottle. This year's iconic M de Minuty "Bouteille Provencale" breathes new life through the vibrant designs of Barcelona based visual artists Zosen Bandido and Mina Hamada. Illustrating the world of Minuty through the Mediterranean sea, sun and soil, this eye-catching bottle invites you to picture yourself on the beach enjoying all the pleasures of summer.
Côtes de Provence

Château Minuty is the global leader in Côtes de Provence rosé, and beyond that it can be argued is the most important estate in the history of Provence rosé. The Saint-Tropez based, family owned estate has been, since its founding, one of the quality leaders for the region. Minuty then became one of the most visible producers in the second half of the 20th century, a result of quality production and commercial foresight when no one in the region could imagine the global phenomenon Provence rosé would become. And then in the last two decades, Minuty defined the vision for and led the unbelievable growth in Provence rosé around the globe.