Katherine Cole, writer for SevenFiftyDaily, writes on the rapidly shifting rosé market in response to social distancing, tarries, and an increasing wine glut. Cole explains that due to the tarrifs Provence, the regional king for the wine, is seeing darastic change due. Take for example Chateau Minuty, where nearly 30 percent of estate wines are bottled in oversized formats, including 3- and 6-liter. Vintus' very own Alex Michas was quoted in the article, "The inability to sit outside at restaurants… the closures of beaches, the social distancing that makes getting together at hotel pools impossible, all these limitations [are hurting] rosé sales," says Alex Michas, chief operating officer of Minuty's exclusive U.S. importer. "Our overall promotion strategy will shift," adds Michas. "We are working to bring the essence of Saint-Tropez and the owners, the Matton family, to their consumers through different e-commerce partnership opportunities, Instagram, and other social media channels in place of activations at beach clubs, patios, rooftops and waterfront settings."
To learn more about the shifting rosé market, read the full report HERE.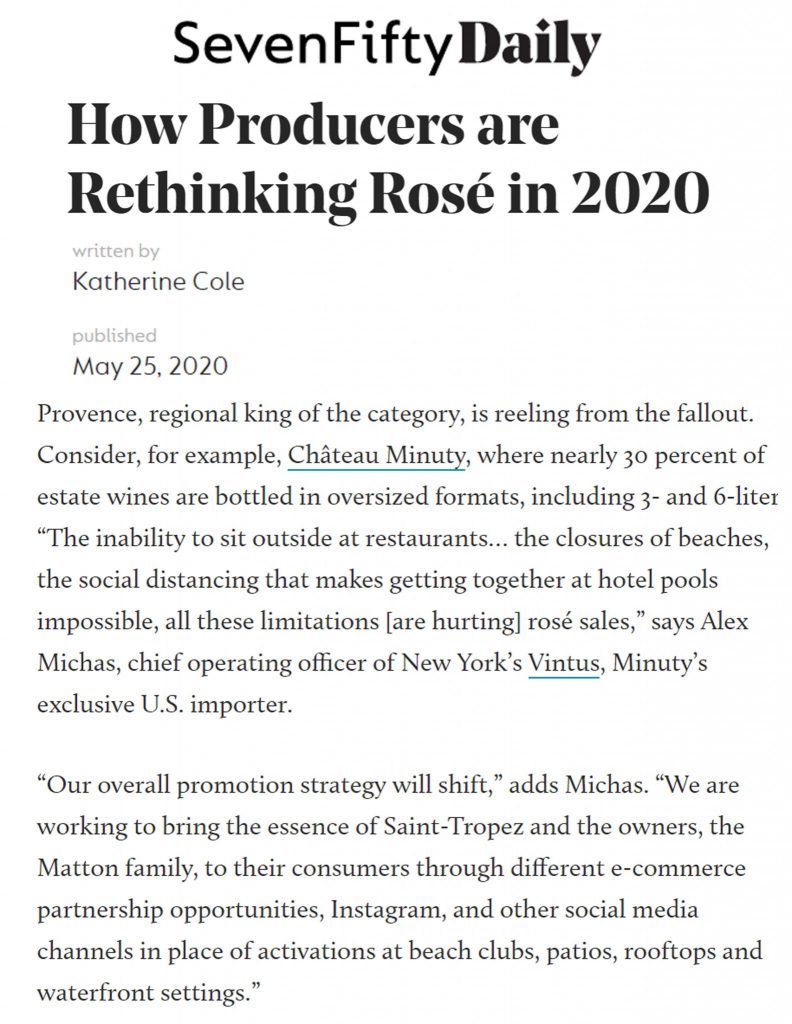 Côtes de Provence

Château Minuty is the global leader in Côtes de Provence rosé, and beyond that it can be argued is the most important estate in the history of Provence rosé. The Saint-Tropez based, family owned estate has been, since its founding, one of the quality leaders for the region. Minuty then became one of the most visible producers in the second half of the 20th century, a result of quality production and commercial foresight when no one in the region could imagine the global phenomenon Provence rosé would become. And then in the last two decades, Minuty defined the vision for and led the unbelievable growth in Provence rosé around the globe.