Into Wine had the opportunity to taste the Minuty Prestige 2019 and shared a very positive review of this beautiful expression of Côtes de Provence rosé.
After sharing historical context and the grape breakdown up front, the writer delves into her tasting notes, "Very pale but bright and clear.  It has a much bigger nose with nice strawberries, some hay and slight watermelon.  On the palate, it has an interesting texture.  A bit oily but also creamy.  The strawberries really come thru on the palate.  Refreshing and tasty.  Good balance.  Long finish." She continues to share some food pairing suggestions. Read the full review HERE.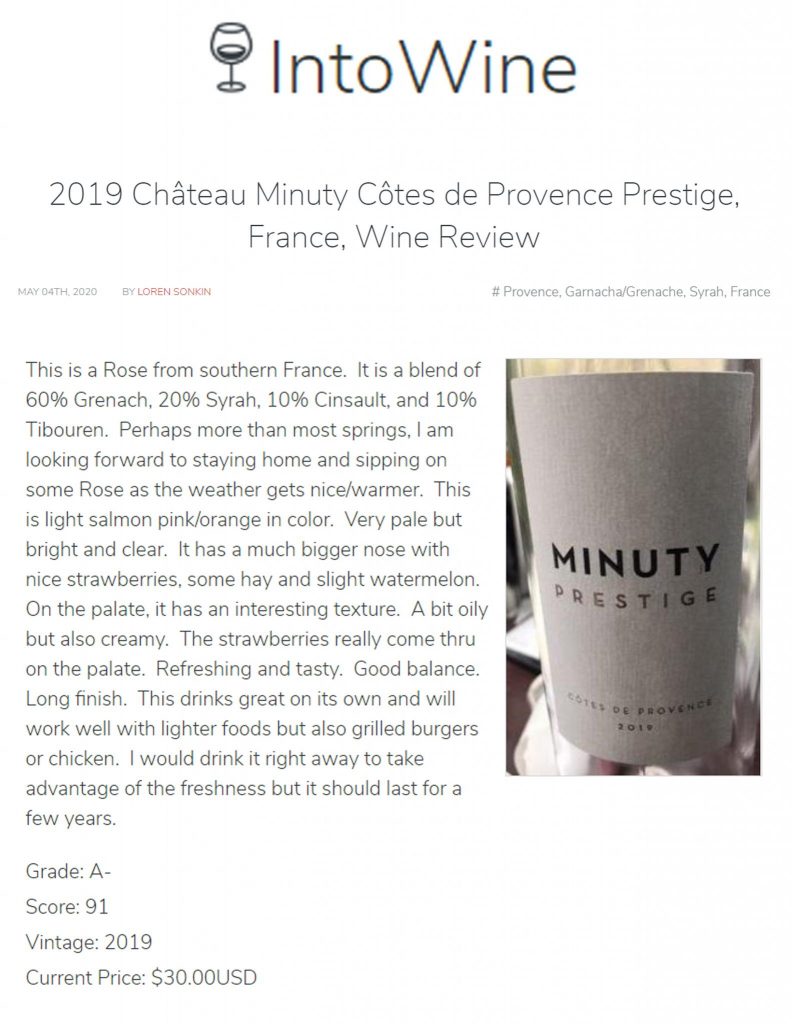 Château Minuty

Côtes de Provence

If you notice just one wine on the beach and seaside restaurants in the south of France, it is almost certainly Minuty Prestige. This wine has become the emblem of the Riviera lifestyle, and it is place that has been earned through the unbelievable dedication to quality by the Minuty family.
Côtes de Provence

Château Minuty is the global leader in Côtes de Provence rosé, and beyond that it can be argued is the most important estate in the history of Provence rosé. The Saint-Tropez based, family owned estate has been, since its founding, one of the quality leaders for the region. Minuty then became one of the most visible producers in the second half of the 20th century, a result of quality production and commercial foresight when no one in the region could imagine the global phenomenon Provence rosé would become. And then in the last two decades, Minuty defined the vision for and led the unbelievable growth in Provence rosé around the globe.