We couldn't agree more with Departures contributor Jonah Flicker, who writes that "spring is the perfect time to open a bottle of rosé," and included recommendations of the Château Minuty 281 and Minuty Prestige as best in class options to pick up and enjoy now.
He notes the lovely 2019 Prestige is available nationally for the first time in the US. Then continuing, "the pinnacle rosé from this family-owned estate, located on the Saint Tropez peninsula, is Château Minuty 281, named after the dripping blue Pantone color on the bottle. The 2019 vintage is bright and lively with notes of white stone fruit and citrus." Read his full write up HERE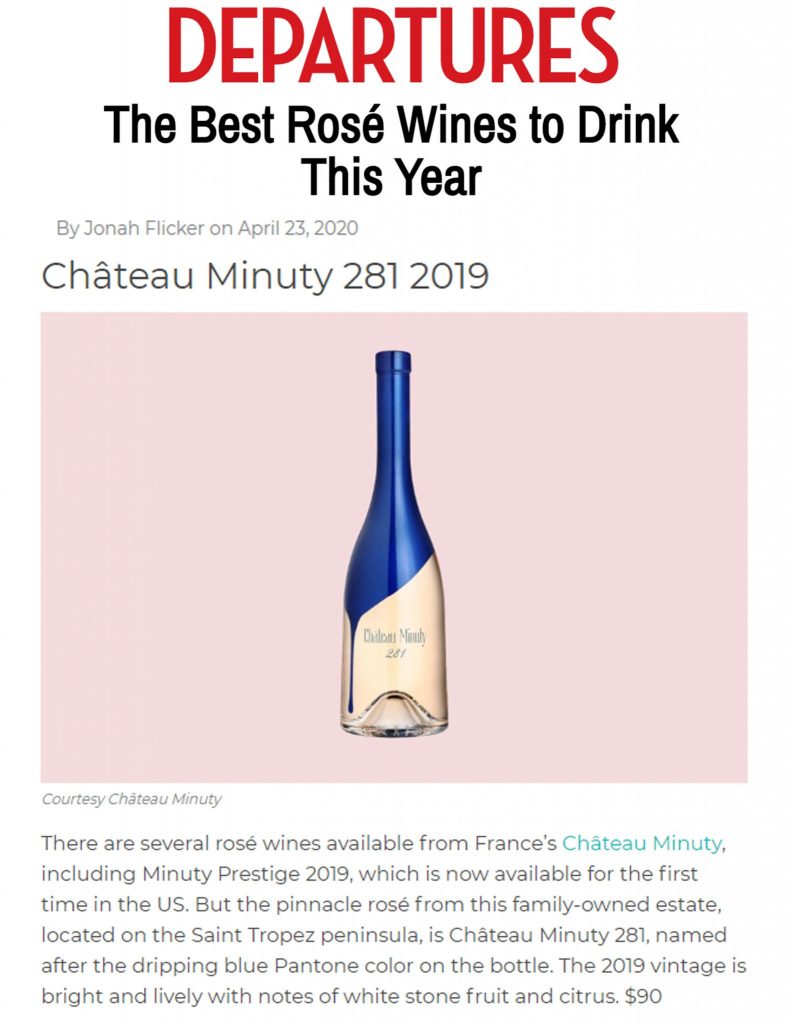 Château Minuty

Côtes de Provence

If you notice just one wine on the beach and seaside restaurants in the south of France, it is almost certainly Minuty Prestige. This wine has become the emblem of the Riviera lifestyle, and it is place that has been earned through the unbelievable dedication to quality by the Minuty family.

Château Minuty

Côtes de Provence

281 refers to the Pantone number for this royal blue color that elegantly cascades in a glaze down the side of the bottle.  It evokes the sky and the sea of Minuty's French Riviera home, in particular the deep blue that appears everywhere after the strong afternoon wind.  100% estate from a single old plot of Grenache whose clone is exclusive to Château Minuty, it is the ultimate reflection of their special seaside vineyard and Provence.
Côtes de Provence

Château Minuty is the global leader in Côtes de Provence rosé, and beyond that it can be argued is the most important estate in the history of Provence rosé. The Saint-Tropez based, family owned estate has been, since its founding, one of the quality leaders for the region. Minuty then became one of the most visible producers in the second half of the 20th century, a result of quality production and commercial foresight when no one in the region could imagine the global phenomenon Provence rosé would become. And then in the last two decades, Minuty defined the vision for and led the unbelievable growth in Provence rosé around the globe.