Wine Review Online included Minuty Prestige Rosé 2019 in a roundup of recommended wines to drink at home while quarantined. Writer Michael Apstein said "Regular readers know that I'm not swept away by rosé, but Minuty's 2019 'Prestige' Côtes de Provence Rosé makes even the most skeptical sit up and take notice." We couldn't agree more. He joked that because of the very pale color, "you'd be forgiven to think it would turn out to be bland. Not at all. Lively wild strawberry-like flavors leap from the glass. This dry and invigorating rosé can hold up to some serious sushi." Read the full story here: http://www.winereviewonline.com/Dr_Apstein_Case_for_Quarantine_Two.cfm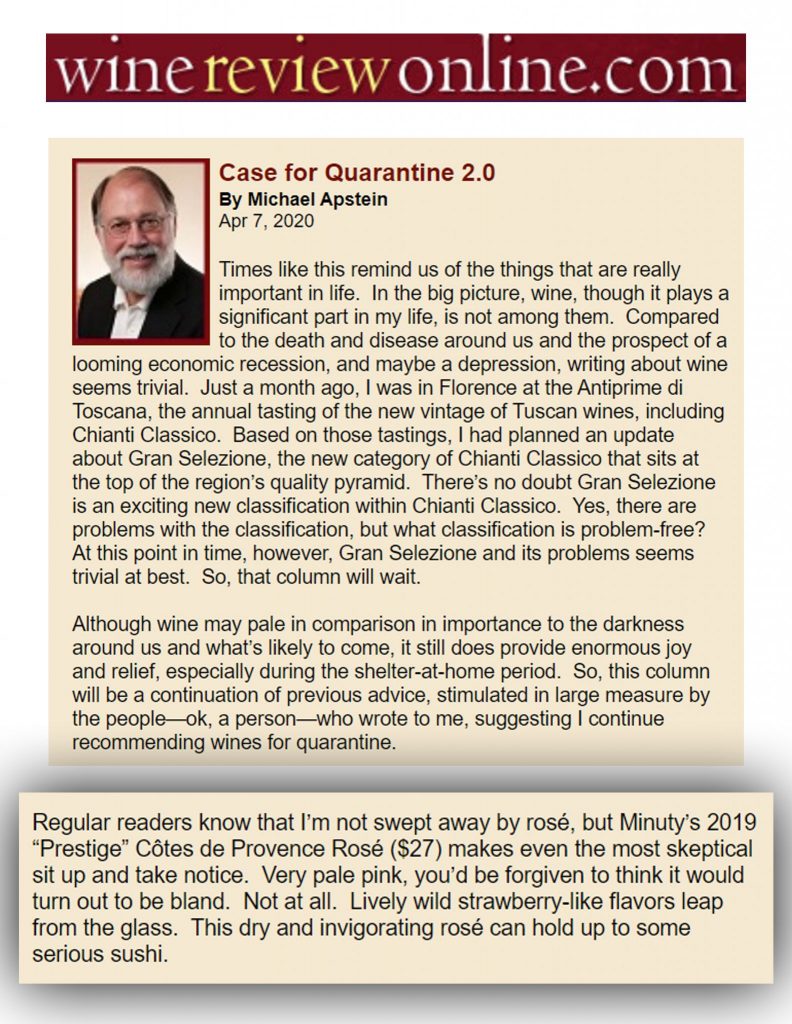 Château Minuty

Côtes de Provence

If you notice just one wine on the beach and seaside restaurants in the south of France, it is almost certainly Minuty Prestige. This wine has become the emblem of the Riviera lifestyle, and it is place that has been earned through the unbelievable dedication to quality by the Minuty family.
Côtes de Provence

Château Minuty is the global leader in Côtes de Provence rosé, and beyond that it can be argued is the most important estate in the history of Provence rosé. The Saint-Tropez based, family owned estate has been, since its founding, one of the quality leaders for the region. Minuty then became one of the most visible producers in the second half of the 20th century, a result of quality production and commercial foresight when no one in the region could imagine the global phenomenon Provence rosé would become. And then in the last two decades, Minuty defined the vision for and led the unbelievable growth in Provence rosé around the globe.