The Château de Nalys Grand Vin and Grand Vin Blanc appeared in a feature story for Coachella Valley Weekly, a news magazine for communities in Palm Springs and Coachella Valley, CA. Wine writer Rick Riozza first discussed the growing popularity of Châteaneuf-du-Pape wines among young enthusiasts and the overall interest in the area. Rick then stated his own affinity for all Guigal family wines before diving into glowing reviews of both the Château de Nalys Grand Vin Rouge and Blanc. The Grand Vin Blanc was noted as "elegant" and "high-end, bringing class to the table.  It's pricey but it's a treat worth the experience." As for the Grand Vin Rouge, Rick described it as "what you'd expect from a world class CDP: With aromas of red and black berries and spice, its palate is full-bodied, velvety, loaded with ripe, spicy, luscious, rich red fruits," and advised readers to "treat yourself to a bottle." Read the full story here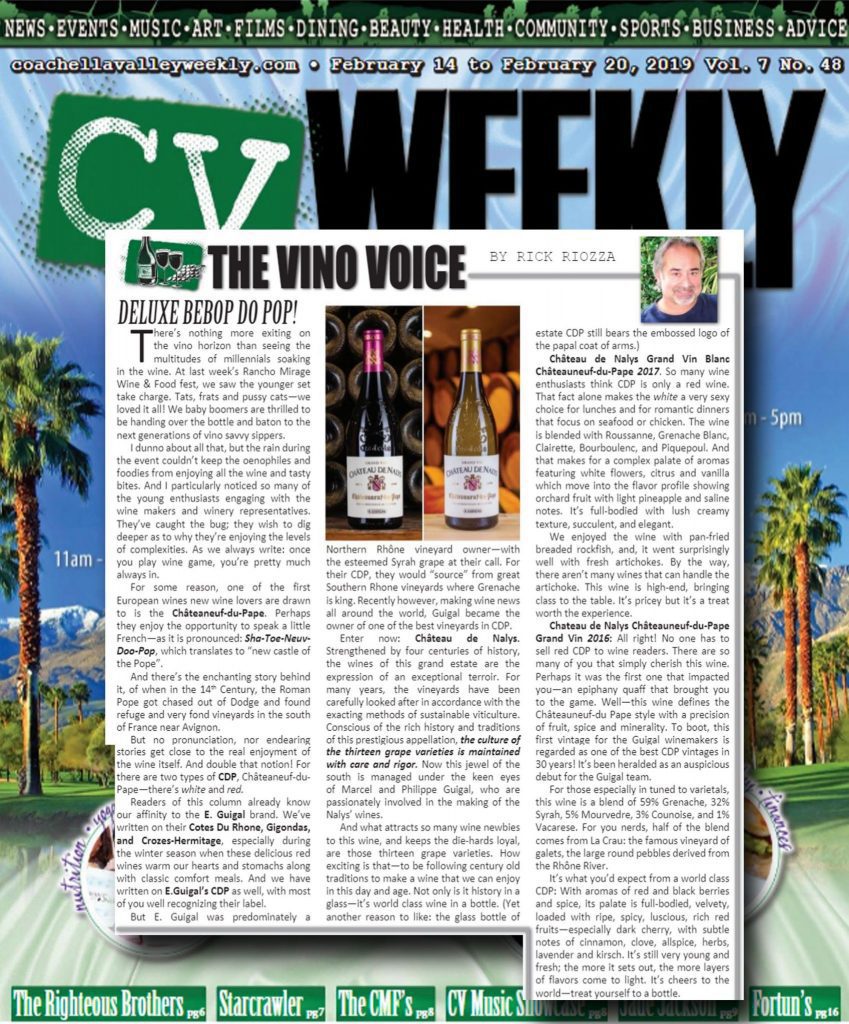 Château de Nalys

Châteauneuf-du-Pape

Guigal's mastery of growing and producing white wine varieties in the Rhône Valley is exemplified in this wine of immense breadth and power, elegance and expression.  Intensely aromatic nose of white flowers, citrus and a touch of vanilla, on the palate the presence is undeniably penetrating, with a deep minerality joining the notes above.

Château de Nalys

Chateauneuf-du-Pape

The realization of the Guigal family's dream of Châfteauneuf-du-Pape: 3 extraordinary vineyards coming together in an intensely expressive, utterly complete wine. 
Châteauneuf-du-Pape, France

Since its creation in 1946 by Etienne Guigal, the Guigal family has produced a Châteauneuf-du-Pape. The terroirs of Nalys realize a dream spanning three generations to join this leading prestigious and historic appellation. Marcel and Philippe Guigal will bring passion and rigour, their family quality philosophy, and the ambition of waving the flag of Châteauneuf-du-Pape at the very highest level. 

Rhône Valley, France

The more you learn about the Guigal family, the more astounding becomes their story.  Their wines are the benchmarks for every Rhone appellation, and over the last thirty years they have become arguably the most lauded producer in the world.  Year after year the Guigal family produces wines of exceptional quality that in all classes offer exceptional value.