Leading men's interest publication, Men's Journal, published "The 10 Most Festive Bars to Ring the Holidays in New York City."  The roundup includes festive bars worth going to in New York City, and highlights the Champagne Bollinger Bar at Winter Village and its selection of Bollinger Special Cuvée, Rosé, and R.D. 2004. We especially love that the Bollinger bar is recommended as one of the top locations to visit, just after the iconic Rolf's. As the Bollinger Bar in Bryant Park is open through the end of February, there is still plenty of time to go visit. Read the full list of places to visit in New York here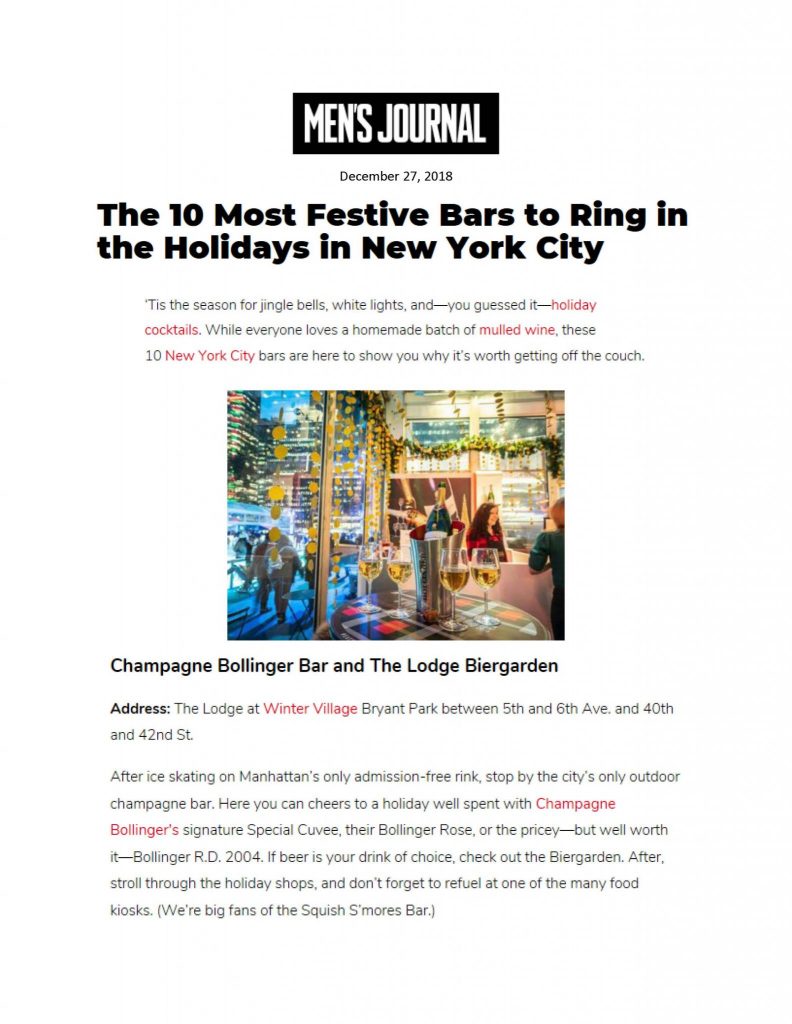 Champagne Bollinger

Champagne, France

A small revolution in the world of Champagne. In 1967, Bollinger releases R.D. 1952.  There is no comparable Champagne on the market at the time. This bold and brilliant Champagne takes the pillars of what makes Champagne Bollinger so unique, and pushes them to their ultimate level. It is, very simply, a masterpiece. 

Champagne Bollinger

Champagne, France

From vineyard to bottling, Special Cuvée sees such an extraordinary level of care and attention, it is difficult to place within the non-vintage or, really, any Champagne category. It is a Champagne that stands apart. Within one bottle, all the complexity of flavor, texture and pleasure that Champagne can offer. Special Cuvée is truly a journey of devotion from Bollinger.

Champagne Bollinger

Champagne, France

In the same way that Special Cuvée stands apart from non-vintage Champagnes, Bollinger Rosé is an exception for Rosé Champagnes. What is more, it is a relative secret, as Bollinger did not release a non-vintage Rosé until 2008 and the quantity produced is quite limited. The wine begins as Special Cuvée and then Bollinger's specialty as the Pinot Noir producer in Champagne takes center stage, as the red fruits that join the conversation dance vibrantly, the finish has just a hint of perfectly ripe tannin, and the deep complexity of the wine shines through transparently.
Champagne, France

Bollinger is one of the rare Grande Marques that's still family owned. Known for its rich, elegant and polished style of Champagne, their outstanding wines are the result of rigorous attention to detail and incredibly labor-intensive practices that few houses are willing to undertake. Underscoring its excellence, Bollinger has remained British secret agent James Bond's Champagne of choice since 1973.