The Winston-Salem Journal highlighted Tommasi Le Rosse Pinot Grigio 2019 and E. Guigal Côtes du Rhône Blanc 2019 in a roundup of recently reviewed wines to enjoy this summer.
He notes that the Tommasi Le Rosse Pinot Grigio has "lemon aromas and flavors, with a clean, crisp finish." He adds that the Guigal family's Côtes du Rhône Blanc has floral, tropical aromas and that it is "fruity, rich and creamy, with peach and peach pit, touch of honey and minerals." Read the full story HERE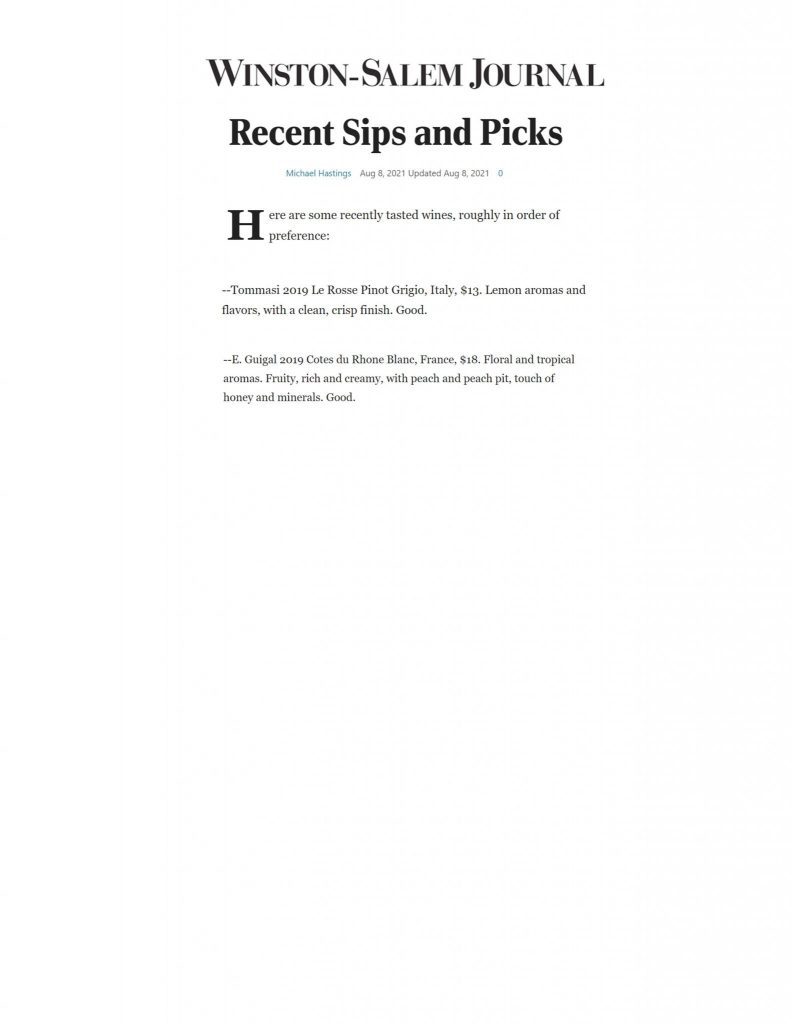 Tommasi

DOC delle Venezie

This Valpolicella Pinot Grigio can be described as sitting between the richer, more concentrated Pinot Grigio from Friuli to the north, and racier styles from the Veneto at large. The nose is spicy with hints of tropical fruit, the flavors clean and crisp, and the body round and soft with a crisp finish.

E. Guigal

Côtes du Rhône

Guigal's Côtes du Rhône Blanc both sets and steps outside the standard for the appellation and showcases one of the great secrets of the Guigal family: their specialization in the great white Rhône varieties. While only 8% of the Rhône's production is white, a full 25% of Guigal's production is white and they are today the single largest producer of whites in the Rhône Valley.
Veneto, Italy

Tommasi has always been a standard bearer of the Amarone appellation. Established in 1902 around the family home in Pedemonte in Valpolicella, the winery has grown and expanded into the choicest areas of the region under the guidance of the many generations of the Tommasi family. The winery is known above all for its classic approach to winemaking in Valpolicella, favoring elegance and balance, and paying homage to the winemaking tradition of their home region.

Rhône Valley, France

The more you learn about the Guigal family, the more astounding becomes their story.  Their wines are the benchmarks for every Rhone appellation, and over the last thirty years they have become arguably the most lauded producer in the world.  Year after year the Guigal family produces wines of exceptional quality that in all classes offer exceptional value.