Bloomberg columnist Elin McCoy dedicated a column to the rare set of still wines produced in the Champagne region, including Champagne Bollinger's Burgundian style Pinot Noir, La Côte aux Enfants 2015.
Bollinger was among the first maisons to produce wine without bubbles, or "coteaux Champenois," with the first vintage of La Côte aux Enfants dating back to 1934. Now, more grandes marques and top grower-producers are producing still wines, such as Roederer. The piece delves into why producers are eager to experiment with still wines and why it is becoming a growing trend in the region.
McCoy offers notes on the 2015 vintage from Bollinger, saying "this charming, silky textured, intensely fruity yet spicy red, aged in small barrels, comes from a steep, grand cru pinot noir vineyard in the village of Ay, whose reds were favorites of King Henri IV." Read the full story HERE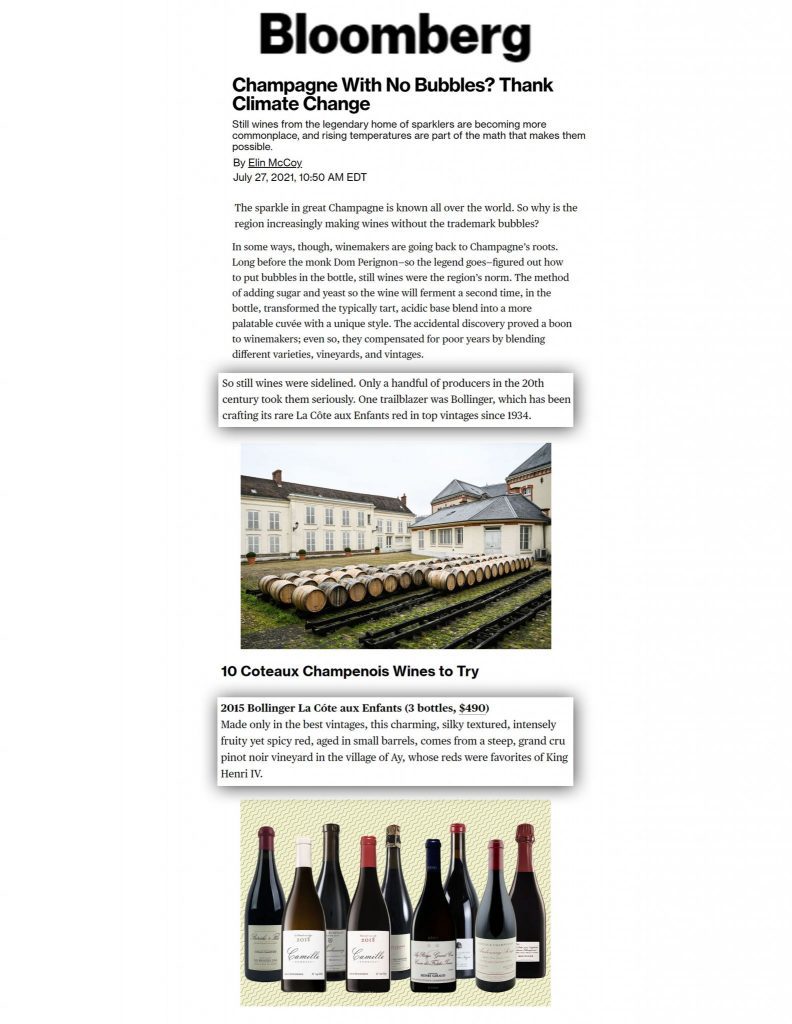 Champagne Bollinger

Coteaux Champenois

A stunning and extremely rare, still red wine produced only for the greatest vintages. This wine harmoniously combines 100% Pinot Noir Grand Cru fruit from an exceptional vineyard with traditional Burgundian style winemaking. Historically, Pinot Noirs from Aÿ were the most popular wines of the French court, specifically a favorite of King Henri IV, and La Côte aux Enfants comes from a steep plot just outside of the village. This wine is the purest expression of Pinot Noir, offering a fine, delicate texture in the mouth, and a tautness giving it a beautifully long finish.
Champagne, France

Bollinger is one of the rare Grande Marques that's still family owned. Known for its rich, elegant and polished style of Champagne, their outstanding wines are the result of rigorous attention to detail and incredibly labor-intensive practices that few houses are willing to undertake. Underscoring its excellence, Bollinger has remained British secret agent James Bond's Champagne of choice since 1973.